Enjoy the ultimate in intimate inflight luxury as you fly to Australia and experience The Residence, Etihad's romantic penthouse in the sky.
Upon arrival, rested and rejuvenated, take to the skies to discover a birds-eye view of Sydney with an exhilarating helicopter orientation flight, landing to a warm and magical Aboriginal welcome while your bags are swiftly transferred behind the scenes to the unrivalled Sydney Suite at The Park Hyatt. A vast and exclusive panorama of one of the finest cityscapes on our planet awaits you.
Relax and enjoy world class food and service before you take a sunset cruise in the harbour, then go backstage at Sydney's iconic Opera House. In the morning explore the remarkable Blue Mountains with a famous Australian explorer, before hitting the waves for a lesson with a champion surfer…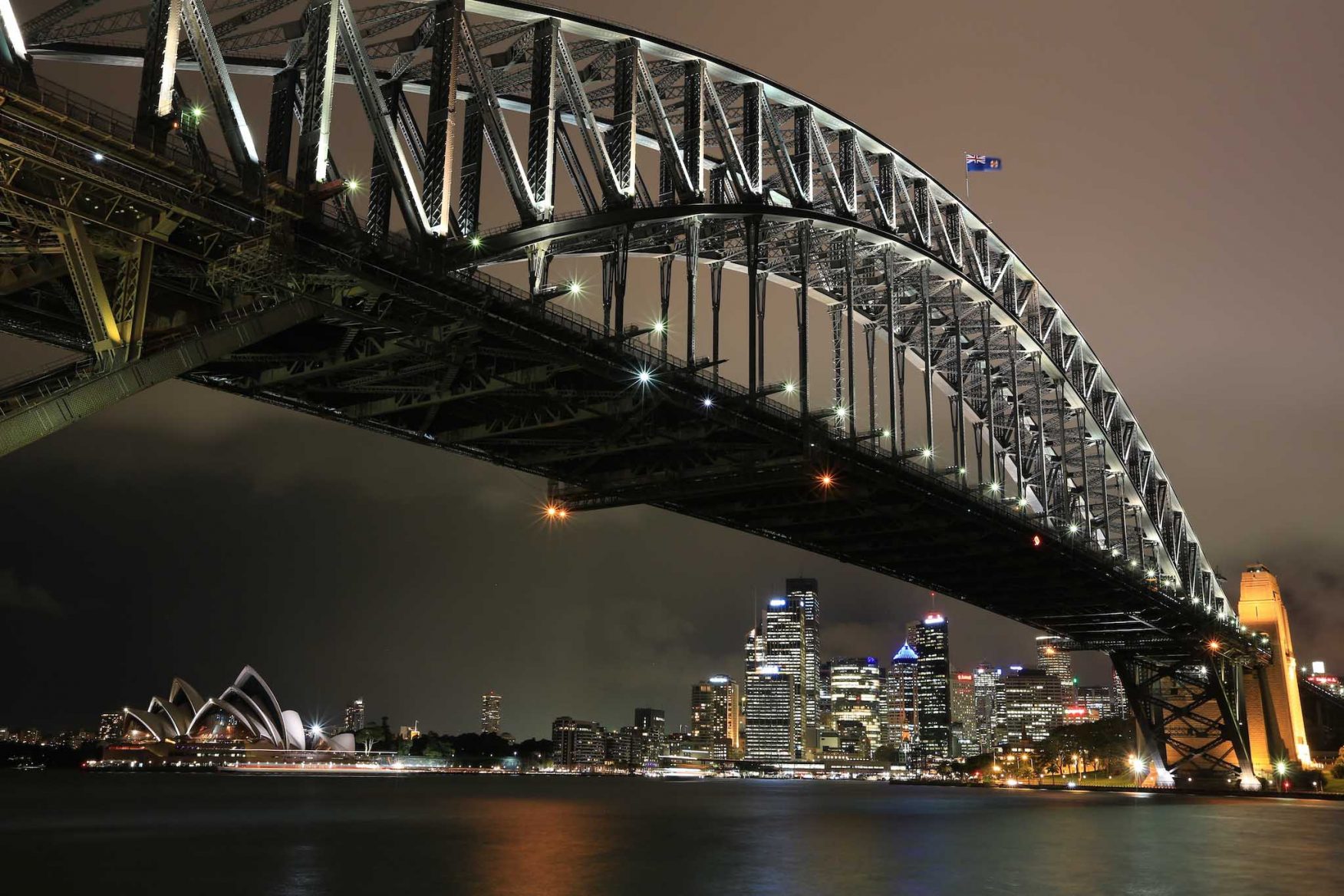 01

/ 04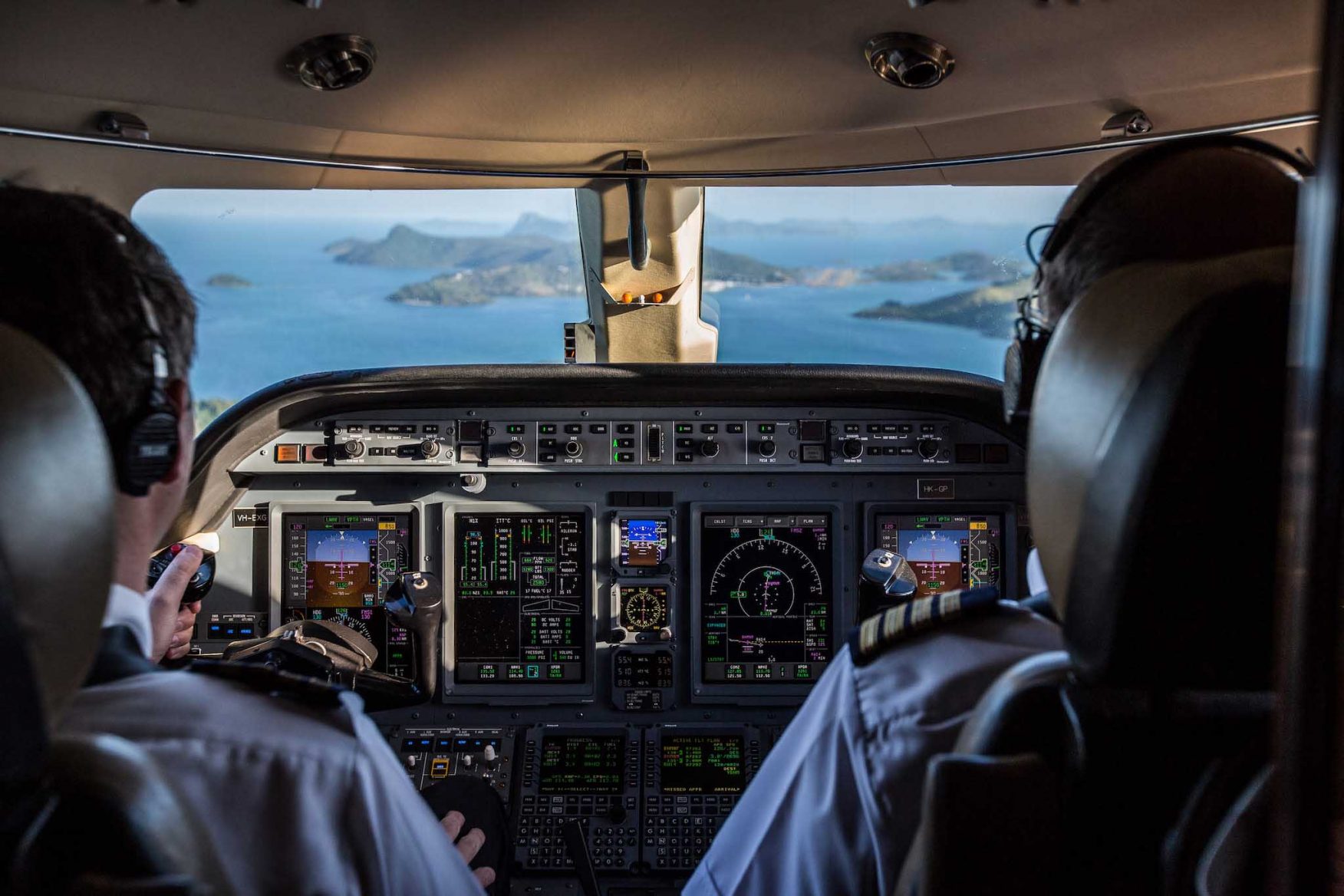 02

/ 04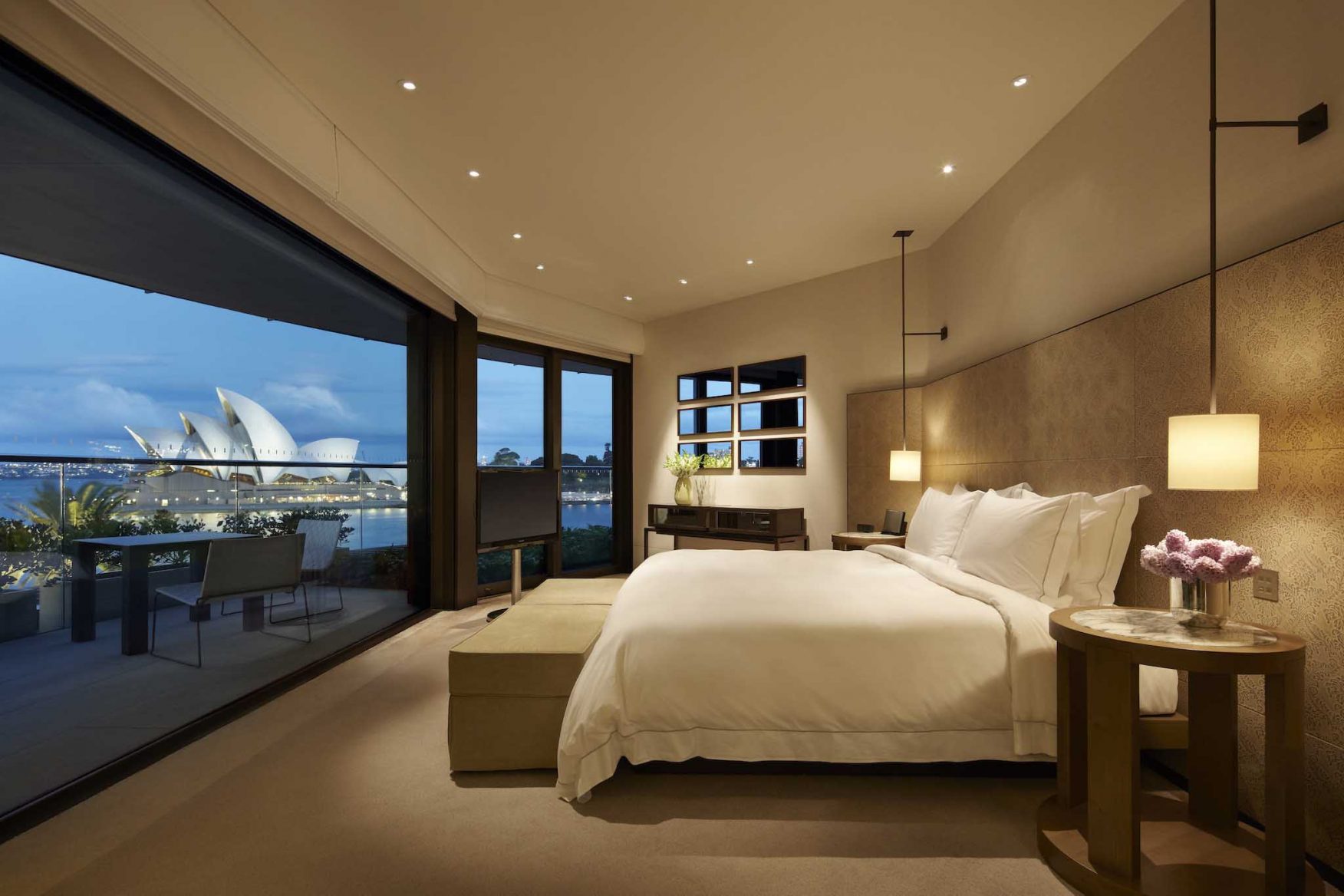 03

/ 04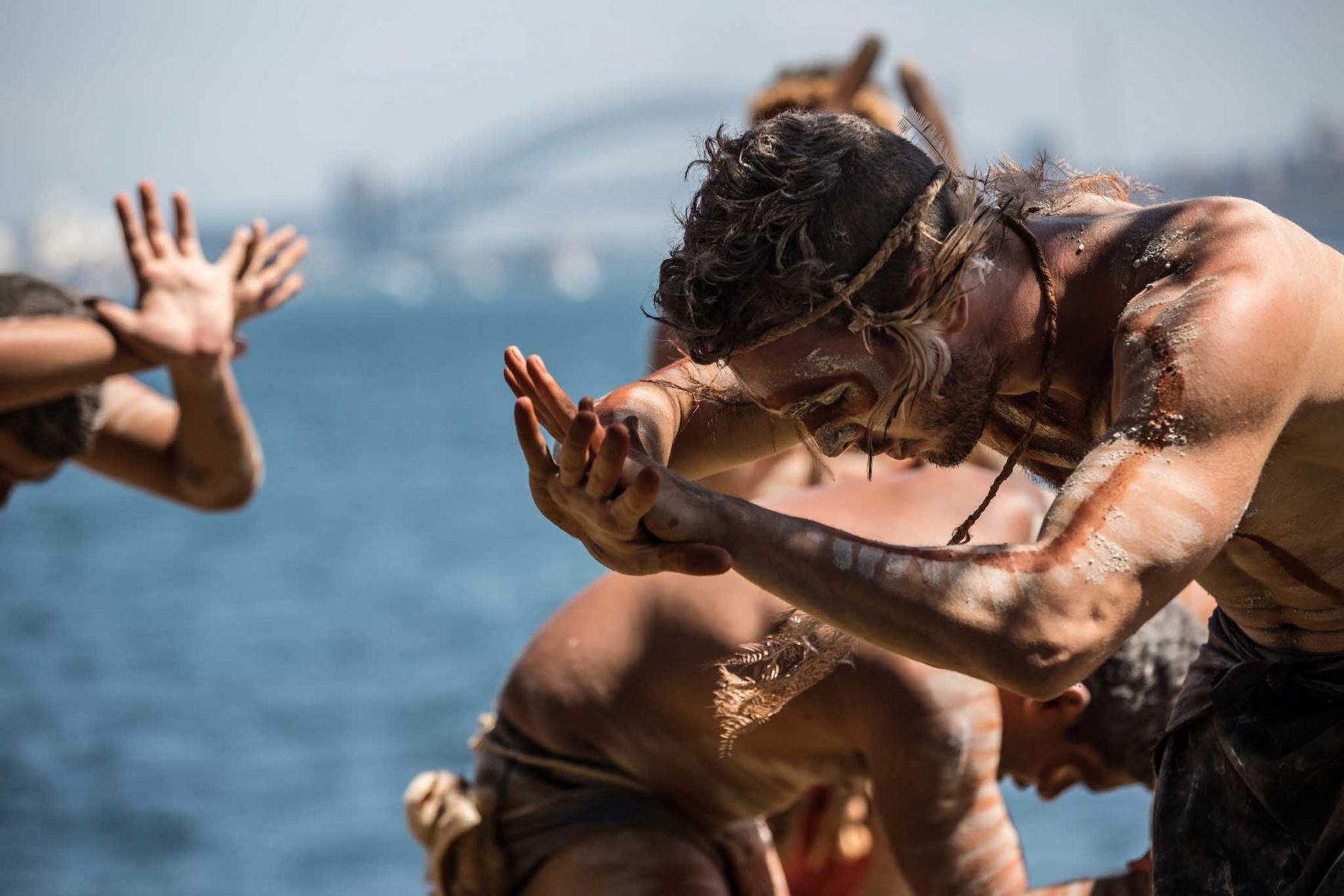 04

/ 04
Pause slider
Play Slider
From Sydney fly by private jet to Hobart, Tasmania's picturesque capital. Board a waiting helicopter for the breath-taking flight up the east coast to the idyllic Saffire Hotel – perched on the shores of the magnificent Freycinet Peninsular, overlooking the dramatic peaks of the Hazards. Fire-red at sunset, it's hard to describe the beauty. Kayak along pure shores and explore an estuary where a master chef awaits you for a brunch of fresh seafood and crustacea; combine horse-rides, mountain bike expeditions and intrepid hikes along deserted coastal trails and beaches.
Onwards to Port Lincoln to enjoy a sea safari on the Eyre Peninsula, discovering a coastline thriving with marine life; this is some of the world's richest waters. Dive with great white sharks, swim with sea lions and dolphins and free dive amongst giant cuttlefish.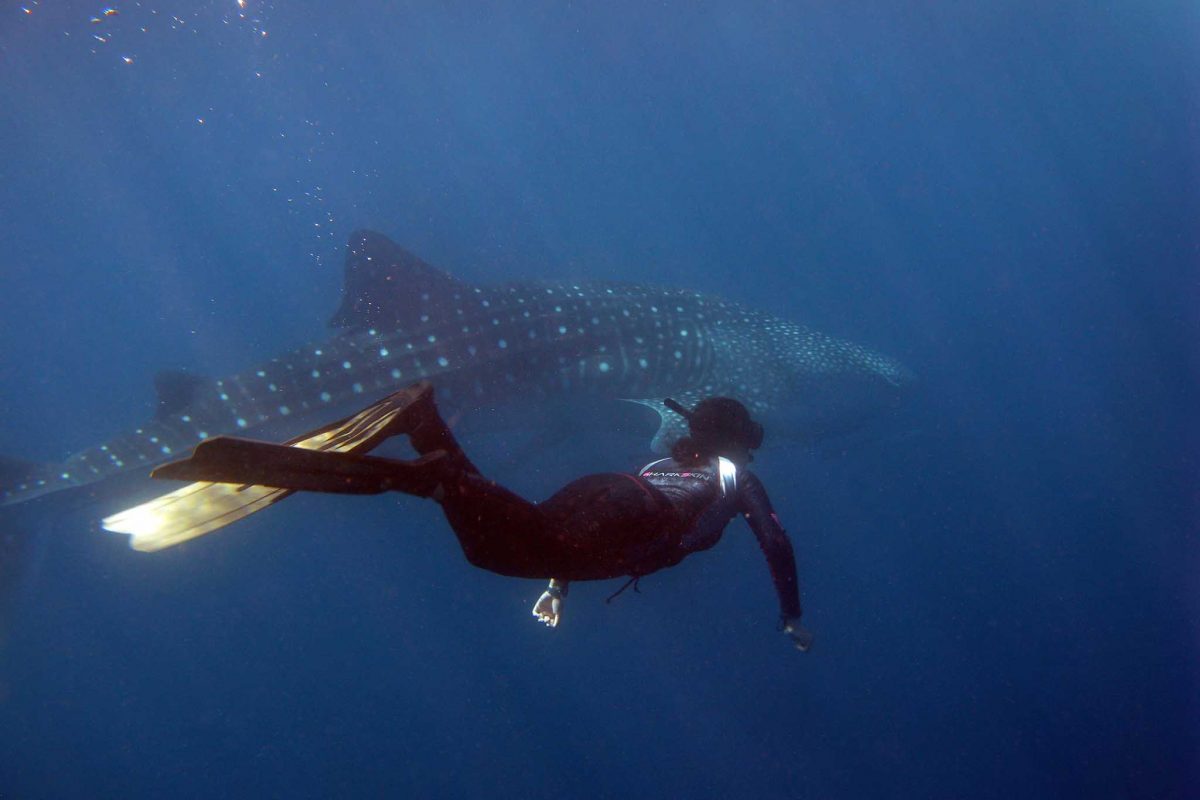 Fly north to the Flinders Ranges and step back in time to experience life on a traditional sheep station. Here you can help muster and learn to shear sheep, join jovial bushmen and enjoy epic landscapes on horseback, and search for fossils. Remains of some the oldest life-forms on Earth have been discovered here.
From Southern Australia, head north to the outpost of Noosa Heads to relax in Queensland and prepare for the final chapter of your Australian adventure, based in a private villa overlooking the main beach just a stone's throw from the chic restaurants and bars.
As a grand finale to your journey through Australia we propose to combine a 4×4 mini expedition exploring the remote Cape York with a last few days relaxing on a private island perfectly located for exploring the Great Barrier Reef.
Explore the Daintree ecosystem and its incredible biodiversity, with picnics set up by enchanting waterfalls; enjoy encounters and insights into the Aboriginal culture spending time searching for ancient Aboriginal rock art, and learn to find, carve, then play a didgeridoo.
Finally, to the most northerly of the Great Barrier Island resort islands, a sparkling gem surrounded by the Coral Sea. Relax and enjoy simply stunning food and service. Explore the largest living thing on Earth – one of the seven wonders of the world – and on your final night enjoy a romantic dinner setup waterside under the stars, whilst being serenaded by acoustic musicians…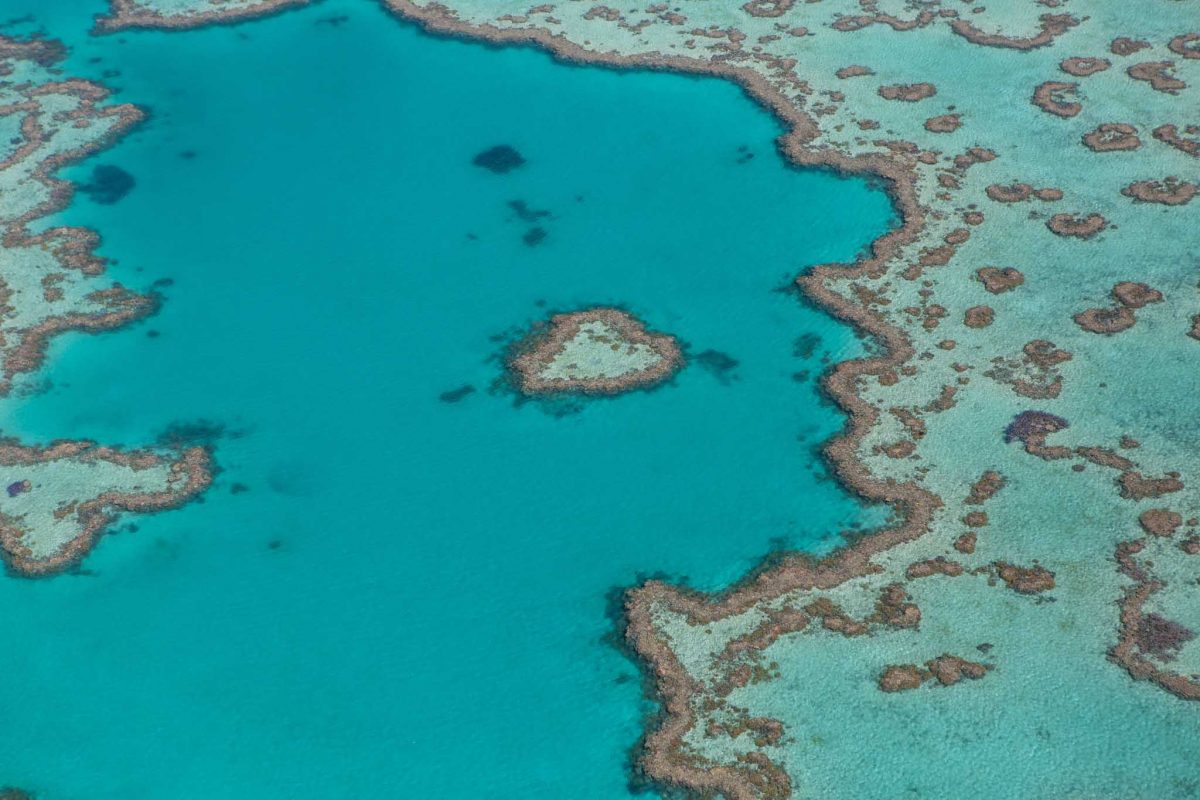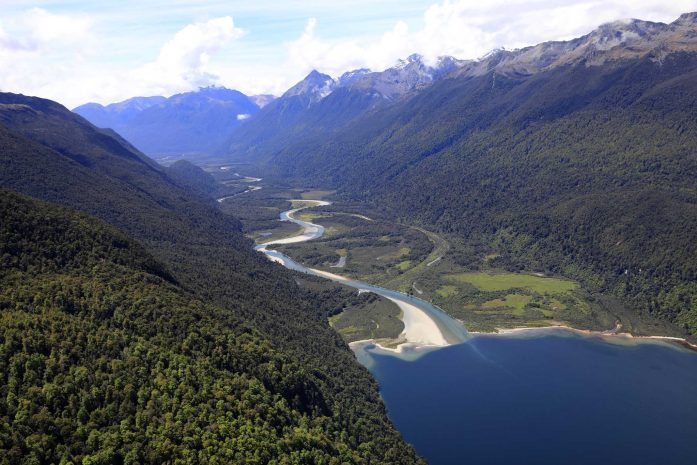 A land of incredible raw natural beauty. Towering glaciers, fiery volcanoes, spectacular geysers and boiling mud baths. Mythical snow-capped mountains, fast-flowing crystal rivers leading to deep, shimmering lakes, and turquoise waters framed by deserted beaches.
Heading on to New Zealand – majestic, mighty and magical – the air is different here. Pure…exhilarating.
A land of incredible raw natural beauty. Towering glaciers. Fiery volcanoes, spectacular geysers and boiling mud baths. Mythical snow-capped mountains. Fast-flowing crystal rivers lead to deep, shimmering lakes, to turquoise waters framed by deserted beaches.
In these epic surroundings you can immerse yourself in some of the best opportunities for adventure on Earth.
Arriving into Auckland you'll jump aboard a helicopter to begin your aerial odyssey of these magnificent lands… Begin with a soaring view of New Zealand's main city, before flying north to discover a chain of picture-postcard-perfect coves, each with its own stunning beach.
You'll land on the lawns of a stunning cliff-top villa with jaw-dropping views over the Bay of Islands. The Māori knew this area as Pewhairangi and settled here early in their migrations so, in effect, it became the birthplace of New Zealand.
Next to Lake Taupo and Huka Falls. Your base, the elevated owner's cottage at Huka Lodge, just upstream of the dramatic Huka Falls, is simply heavenly.
Here you can explore this epicentre of volcanic geothermal activity with a scenic helicopter flight over of a string of active volcanoes, before flying out to the volcanic oceanic caldera of White Island.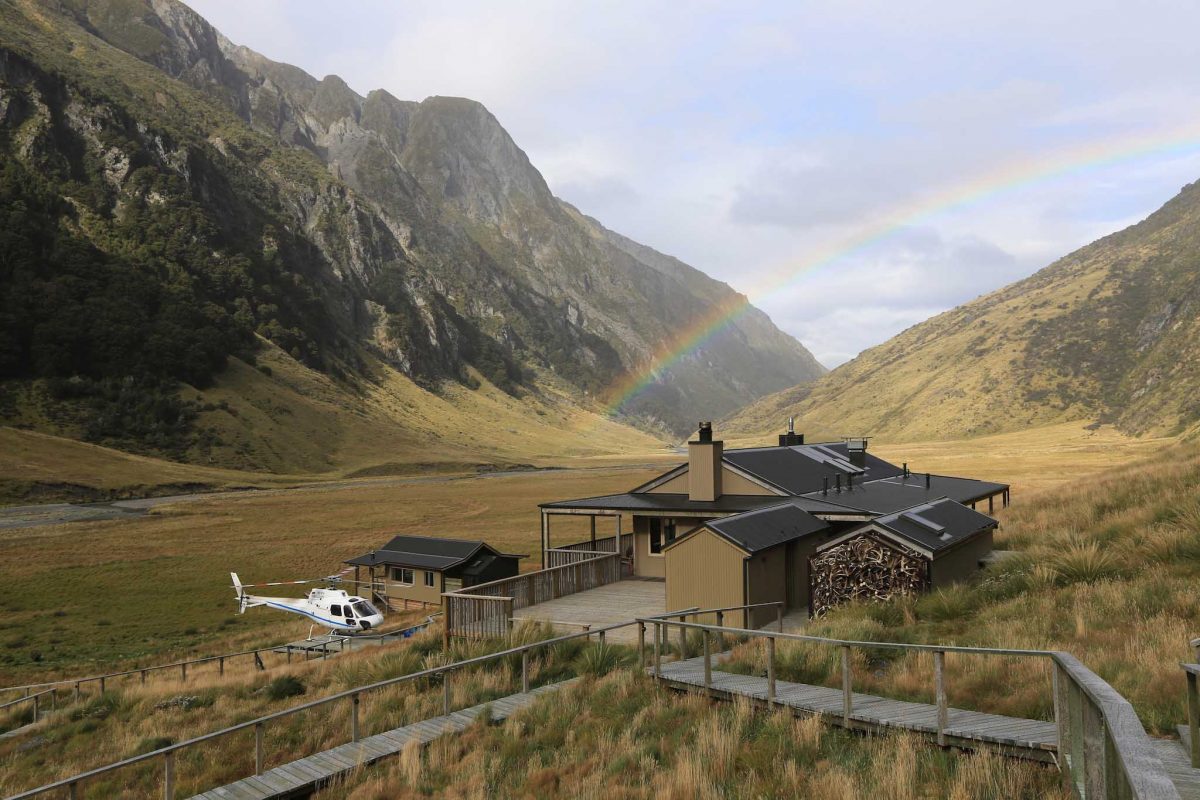 Onwards to Christchurch in the South Island for a rendezvous with your next helicopter, take to the skies again briefly, landing near magnificent Mount Cook for a private glacier hike amongst some of the most dramatic alpine scenery imaginable.
Next you'll rendezvous with Landcruisers and drive through the majestic Mackenzie country to New Zealand's newest boutique hotel, the Lindis, nestled in the Ahuriri valley. Here you'll discover many of the locations from The Lord Of The Rings, with some special surprise encounters! Try mountain climbing, mountain-biking, pack-rafting or horse-riding amidst the spectacular surroundings, and enjoy a delightful dinner under the stars, joined by an astronomer who will bring the night sky to life.
Drive further south to Wanaka. Set beside a blissful lake and surrounded by mountains, Wanaka is the quintessential New Zealand wilderness and truly is an adventurer's paradise! Driving alongside the lake you'll enter the vast private estate of Mahu Whenua, eventually reaching a mountain plateau overlooking the lake. You'll truly feel as though you are on top of the world, based above the clouds, looking down across the mountains through pristine valleys of jagged alpine peaks to tumbling waterfalls, emerald streams, to turquoise rivers, to a distant cobalt mirrored blue lake.
From this alpine paradise base we'll show you parts of New Zealand that no tourist has ever set eyes upon. An empowering journey to a place that has remained a myth. You'll embark on a mini-expedition (with every conceivable luxury and service) to explore one of the most remote rivers in New Zealand, where you'll pack-raft, whitewater-raft, and kayak on a journey to discover incredibly beautiful scenery.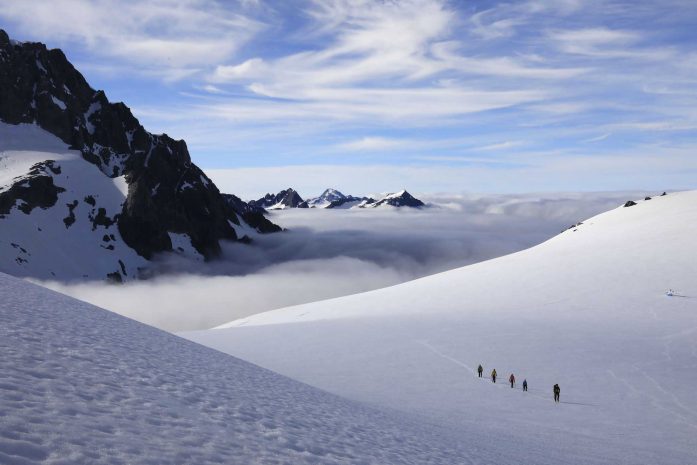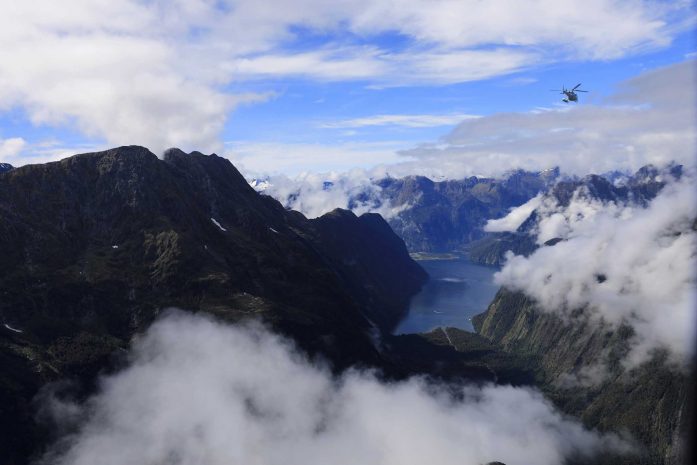 Your ultimate chapter in New Zealand starts with a final farewell rendezvous with a helicopter to explore the very best of the Southern Alps and Fiordland. You'll make several stops along the way to glacier hike, jet-boat, pack raft and stand-up-paddle-board. Then fly down over Milford Sound to Doubtful Sound, to rendezvous with kayaks to explore stunning fiords. This adventurous day eventually leads to your Queenstown base – a boutique lodge overlooking Lake Wakatipu and the Remarkables.
Queenstown is located near the bottom of the South Island and offers a variety of vibrant activities and nightlife. Its lake-side setting and mountainous surroundings also present a wonderful haven in which to relax and enjoy Queenstown's world-renowned cafe, restaurant and bar culture.
Then for a final adrenaline fix, take a leap off Kawarau Bridge where  bungee jumping all began, experience an exhilarating jet-boat ride and, for the ultimate rush, tandem-skydive high above the alpine beauty of Queenstown.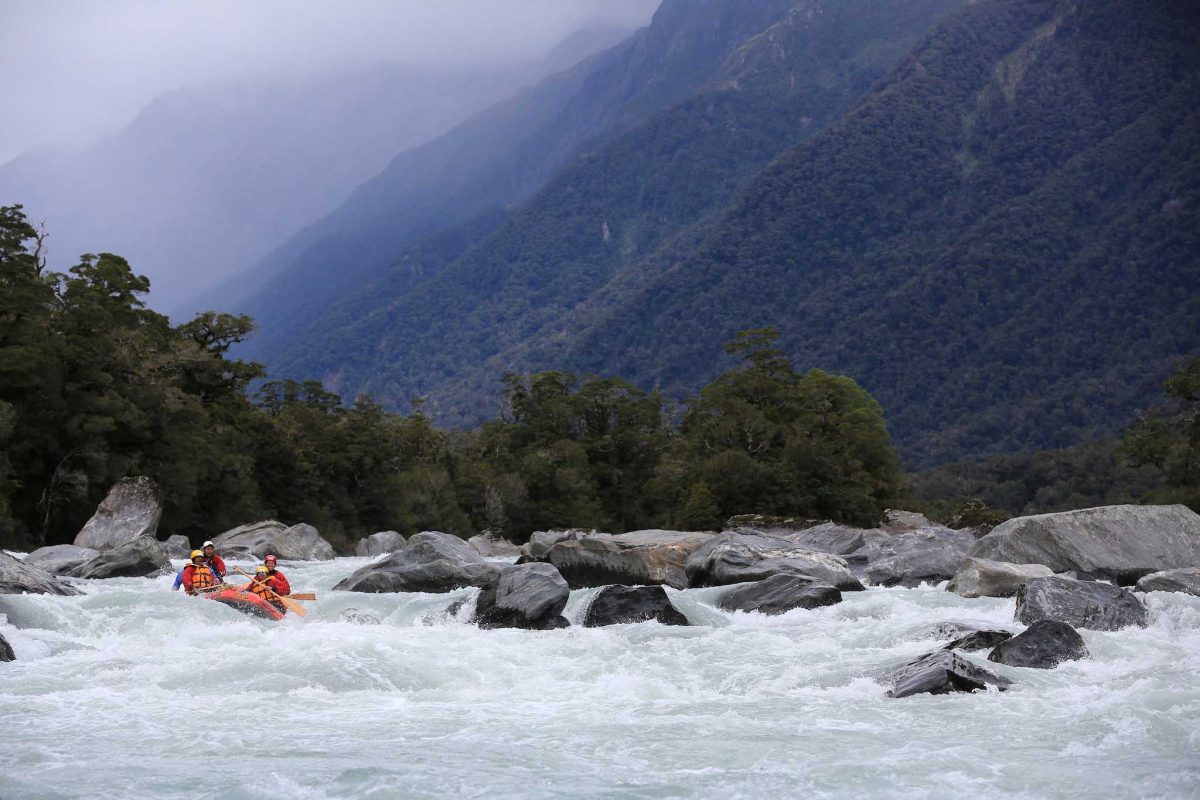 The culmination of your journey will find you in blissful Fiji. The hundred and thirty three islands, each fringed with coral and white-sand beaches, lapped by warm azure waters. Home to some of the most welcoming people on earth. This is where life is lived for the joy of it all through everlasting smiles.
Arriving into Nadi International Airport you'll be met with mile-wide-smiles and flower garlands, then swiftly escorted through customs to a private King Air aircraft for the breath-taking flight to Laucala.
Here members of the local community will give you a warm welcome, serenade with song and dance and present refreshing drinks and special gifts, then show you to your beautiful suite on the beach.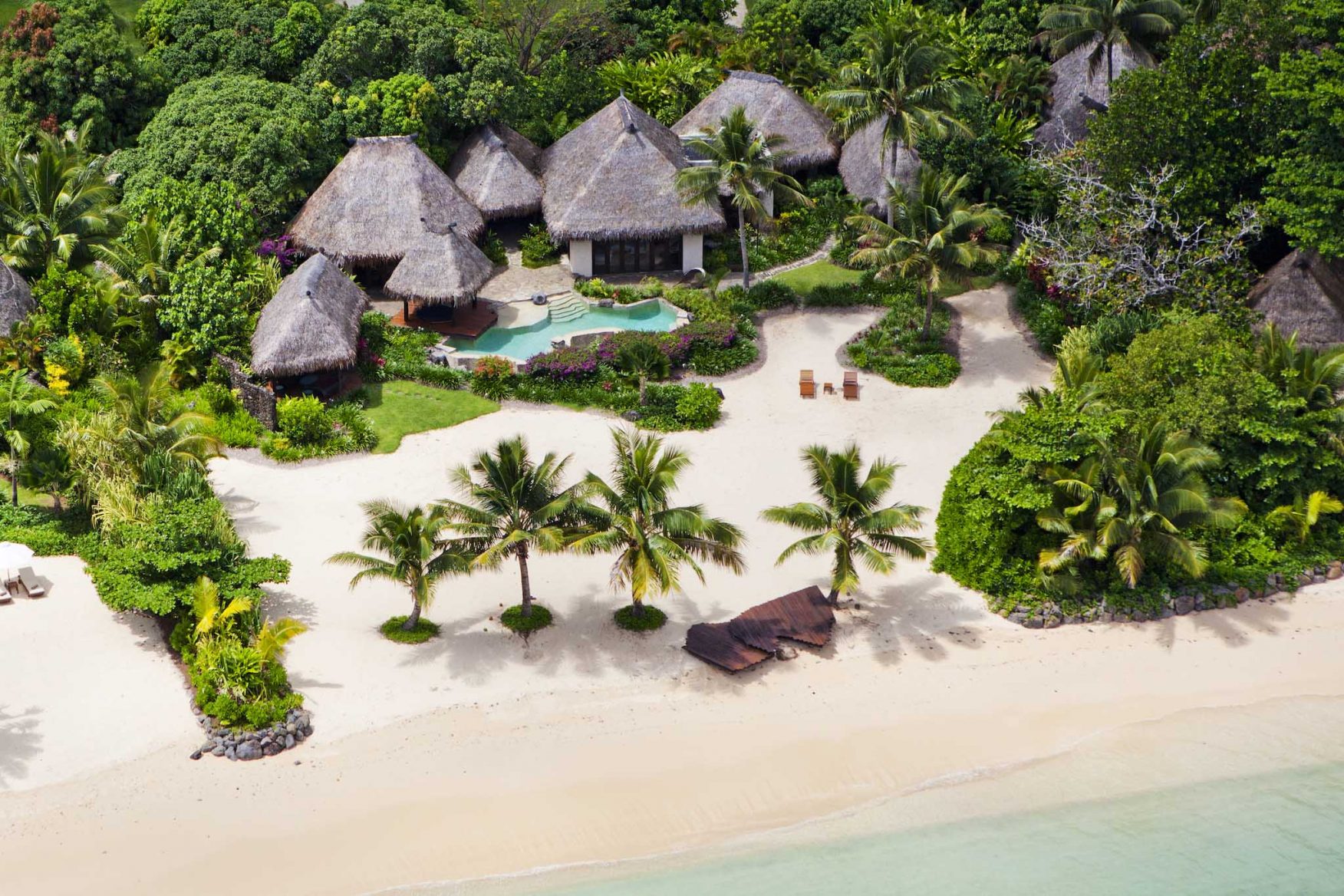 01

/ 03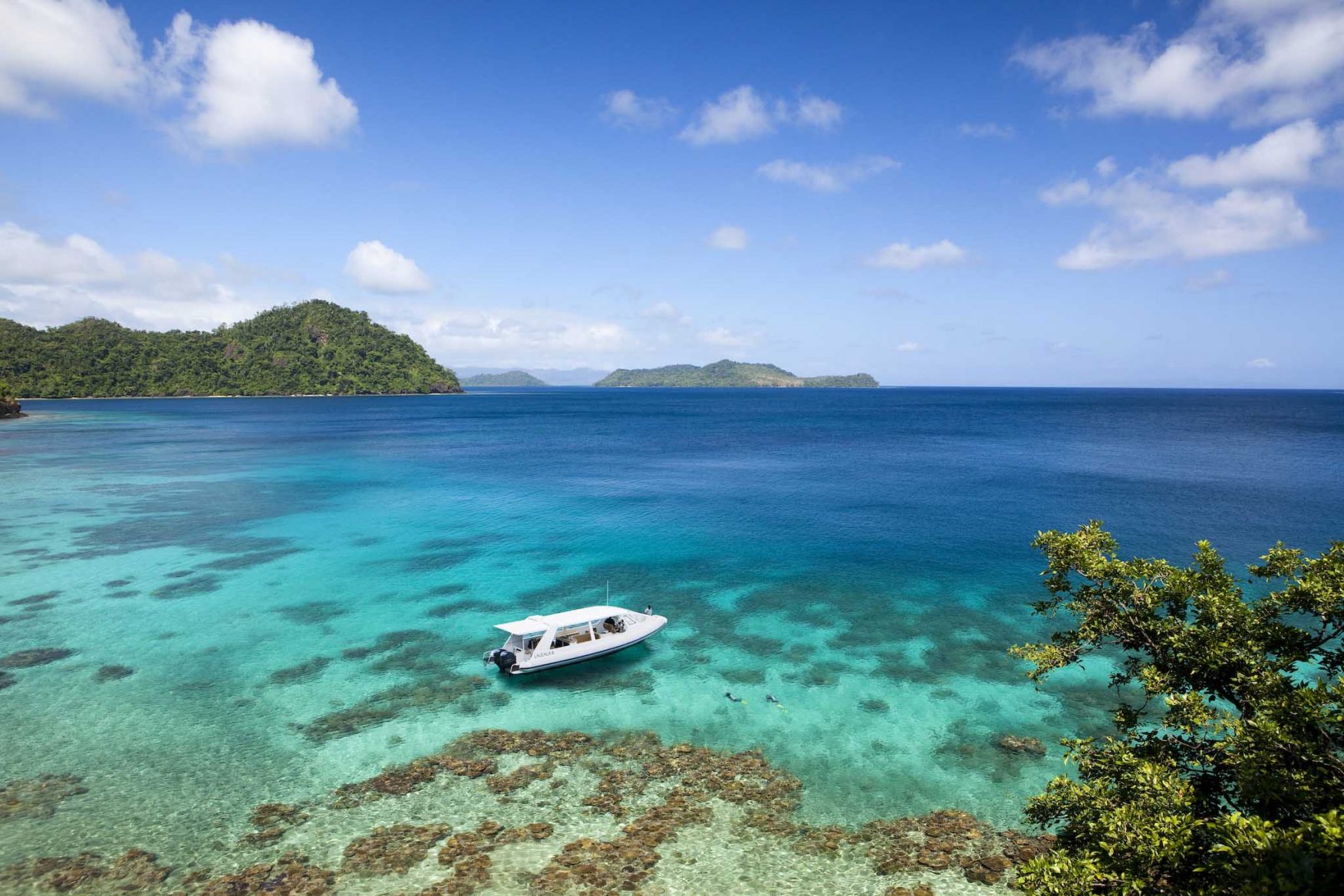 02

/ 03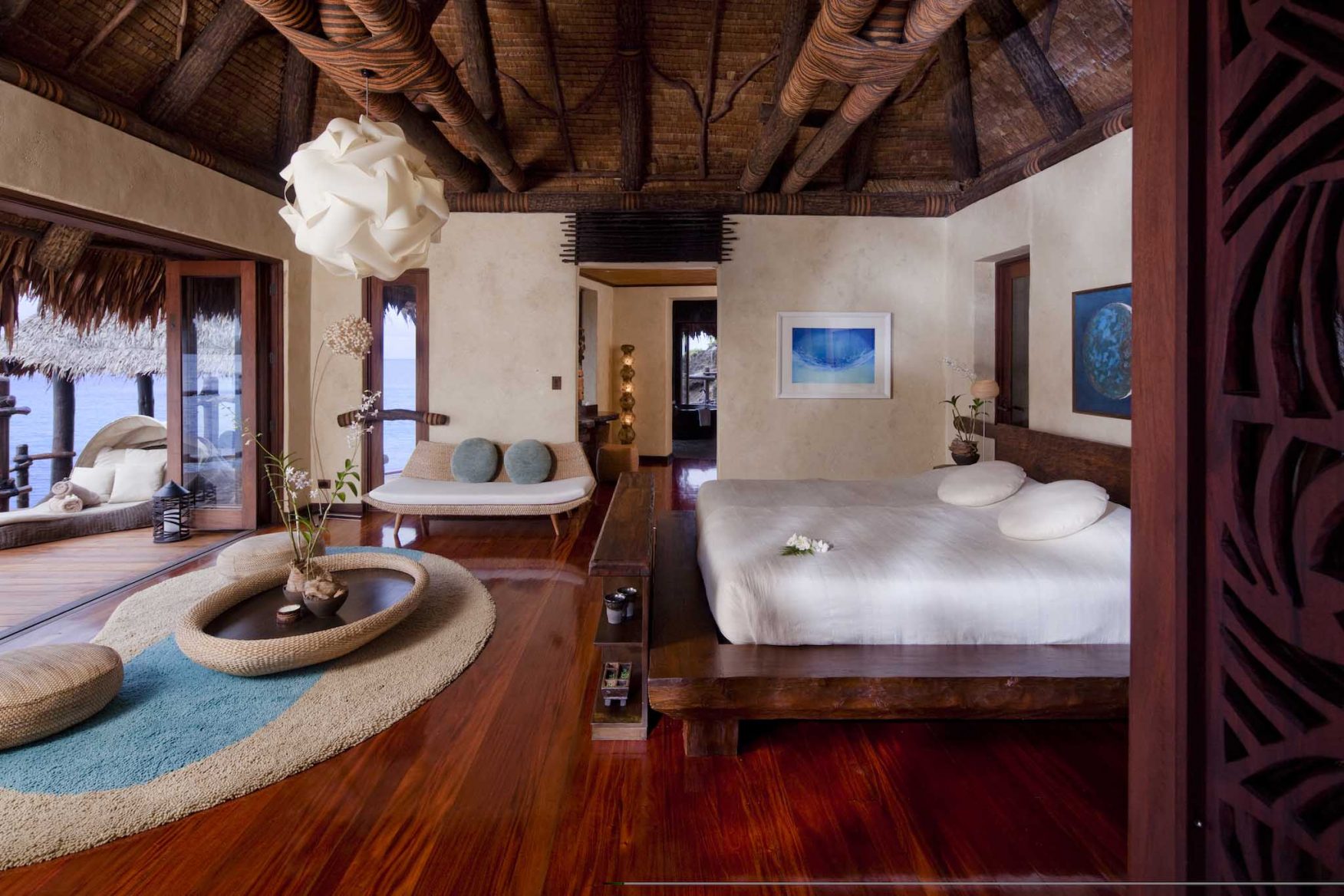 03

/ 03
Pause slider
Play Slider
Laucala is without doubt one of the world's top island resorts and, once there, it is easy to understand why… it really is very, very special.
Set in 3,500 acres of stunning natural beauty, this private island offers icing sugar-like beaches and dazzling turquoise lagoons, set against a backdrop of lush-green mountains and gently swaying coconut plantations.
During your time at Laucala you'll enjoy a variety of romantic locations to celebrate a myriad of magic moments. From surprise picnics on the island, to private set-ups by enchanting waterfalls on neighbouring islands. On Laucala there is a collection of five restaurants and bars, offering everything from beachside barbecues to fine dining, with many of the building's architecture inspired by nature. Informal and casual, torch or candle-lit, all under one of the greatest starry skies you could ever imagine.
Conclude your honeymoon with this complete change of gears after an incredible adventure… Settle into the pace of 'Fiji time', which has no parallels with normal time at all… relaxing and slow… and simply kick back and enjoy…
More stories from around the world
All elements are woven together with wondrous creativity, as each chapter of our magical journeys is told.
Expect elaborate theatrical events, wild escapades and eccentric characters…
Discover more stories