"Imagination is the only weapon in the war against reality."
— Lewis Carroll, Alice in Wonderland 

---
Deep mid-winter… The air is crisp with anticipation as carriages arrive on a crunchy gravel driveway. Bristling fir trees are heavy with snow. Packed ice and powder crunches beneath your feet as you enter a stately home… Imaginations run wild as guests arrive to the grand entrance of an English countryside manor house.
Dressed for a formal birthday celebration, they are uncertain of what lies ahead. Cryptic clues confuse the senses… this could be a normal reception for a regular celebration… or we could be peering through the looking glass…
Everybody is given a scroll, elegantly wrapped by a red ribbon. It explains the need to help find the host – 'Alice', it seems, has disappeared…
The scroll also has simple rhyming instructions: riddles that need to be solved in order to complete the journey through 'Wonderland'…
In small groups, you are escorted to the Grand Staircase, where (of all things) you see a White Rabbit in a waist coat – awfully distressed and franticly tapping at his pocket watch… "We're late! Late! Not a moment more to wait!!".
He encourages you to ascend post-haste and follow, 'Quickly! Quickly!'.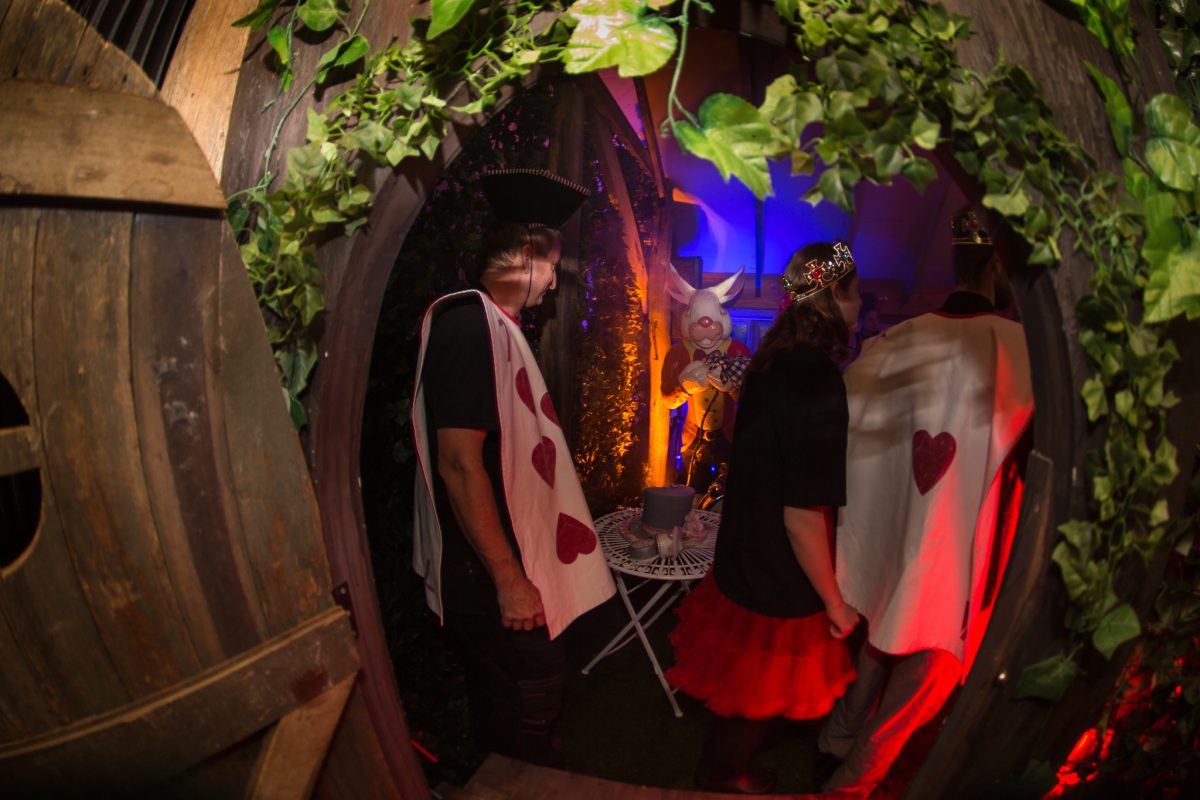 Scurrying down corridors, frantically turning knobs to doorways that won't open… looking round pillars that reveal magic mirrors… Distorting reality through the looking glass…
The walls surrounding are adorned with clocks and books, spinning hands and fluttering pages, like a professor's study that has been turned upside down. It's as if someone has run through the rooms to escape a pursuer and left a terrible mess behind…
The White Rabbit scampers down a set of stairs that spiral down into an undergrowth of plants… hurrying behind, you enter a nighttime woodland, surrounded by overgrown trees and dappled by the moonlight… There is a warm glow coming from the base of a large old oaktree… the air is full of strange smells and unusual echoing sounds…
The White Rabbit leans breathlessly by a large tree, gazing into a great big hole… "Hurry up, Hurry up! What took you so long?"
He calls down for Alice and a distant voice can be heard echoing upwards…. "Alice… are you there?"
Warm musty air drifts up from down below…
They have a conversation, which it seems only the White Rabbit can hear (due to his fabulous ears) … "well you humans will just have to go down and talk to her yourself won't you…"
The White Rabbit leaps in and disappears down the hole… The guests have no other option but to follow… and down the rabbit hole they go… Woooosh…
THUMP!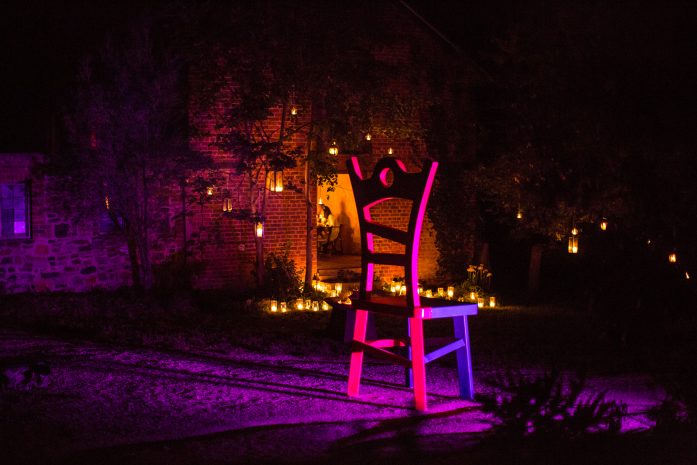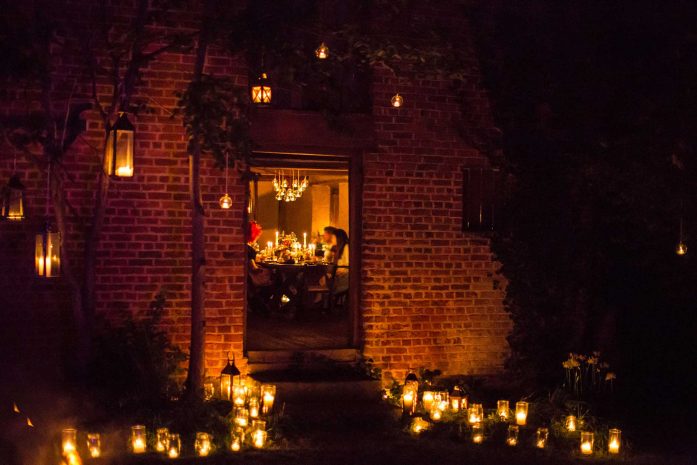 Landing on a large velvet cushion with a thump, a giant dormouse gathers everybody up to hurry them along…
You run down a long corridor lined with shelves full of bottles and potions – some oversized and some teeny tiny – a small table at the end has many bottles labelled 'Drink Me'… may as well take a drink…?
A chequered floor leads to a hallway of doors… some are a bit wonky and the perspective is off… some are real, and some are false, leading to nowhere… the whole scenario is dizzying.
Peeking into each of the rooms, you find an array of bizarre characters in the most peculiarly absurd scenarios.
A grinning Cheshire Cat sitting in a dentist chair, gibbering in mad rhymes and riddles while the dentist fiddles with ghastly looking instruments; a buxom, red cheeked chef cooking up jam tarts as maids throw flour and jam in a scene of pure mayhem… a 'Bandersnatch', snoozing and snarling inside a rusty cage… best not to disturb him…
An imperious duchess hustles everybody along. You begin to sense the depths of the underground as the cobbles turn to mulch. Passing broken, dishevelled fencing, you reach a dense forest… the deepest, darkest part of the Rabbit Hole. Tree branches climb high overhead and brambles cling to ankle fabrics. Fireflies and glow worms light the way to signs, "This Way" and "That Way" … you must choose a path…
Ascending a winding staircase, a kitchen maid suddenly rushes past with a tray of small and perfect tarts, "Don't touch them, they're for the Queen… oh well just one… but you didn't get them from me!! Ha… Eat Me!".
As you munch on the sweet treats and continue up the long and winding staircase, a sign comes in to sight: "For anyone caught eating the Queen's special tarts…off with their heads!"
OOPS!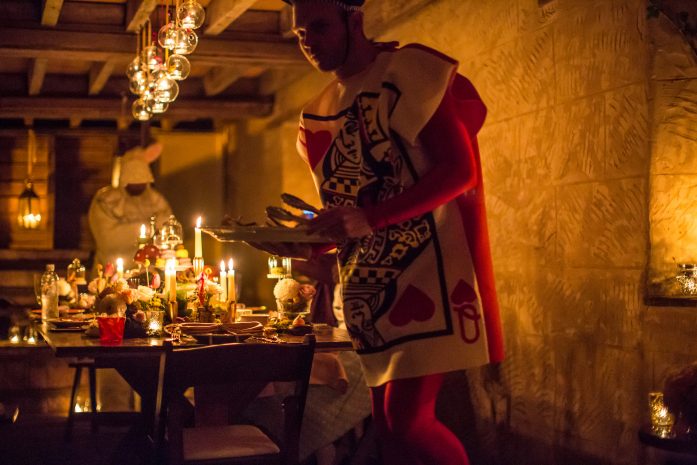 Reaching the top of the staircase is a door… inside, a disorderly room of utter chaos and a great debate…. it is of course, The Mad Hatter's Tea Party.
There's a mismatch of old and new furniture, chairs shoved in the fireplace to burn, curtains are ripped and dishevelled… A long line of various tables form an enormous centre table with oversized teapots, cups and saucers upon it…
The March Hare very excitedly throws glittery stars into the air showering the guests… Cake and tea is handed out over a table with holes that the dormouse suddenly pops out of and starts sniffing…
The Mad Hatter keeps asking whose birthday it is and why everyone has stumbled upon his tea party? He doesn't know who the birthday girl is, but proclaims that it's everyone's very merry un-birthday, so all must celebrate really… which receives raucous applause!
A few Guards march past patrolling and searching for Alice or Jam Tart Thieves! They sniff a potential J.O. (Jam Offence), declare evidence of "eating a tart" and scribble a warning notice… each guest must drink a truth potion!
A loud and ominous giggle echoes throughout the party. Alice pokes her head out from behind a pile of rubble and asks, "what are you all waiting for, the fun has just begun…" and disappears again…
You chase after her to and find yourself in the Castle Gardens, a surreal place of music, theatre, celebration and dance!!
The central feature is a large cocktail bar with castle turrets flanking the stage area… The grounds are on multiple levels with many interesting and hidden areas to discover…
A life-size game of chess (with real characters) is underway, as a maddening Cheshire Cat projection sweeps across the room, and a confused Dodo and Pink Flamingo strut around the party. Canapés and drinks are paraded around by eccentric characters and a constant theatre continues to evolve.
Under a magnificent old tree, a black Raven sits aside a writing desk above a large box of beautiful old luggage-style labels and ornate quills and fancy pens… guests are encouraged to add to the tree-of-life and make a personal note to the birthday girl…
Music fills the air and the maids and guards take to the floor as a magical choreographed dance springs to life… as the evening marches on, characters from a familiar realm make dramatic cameo appearances…
The Party goes on 'till late!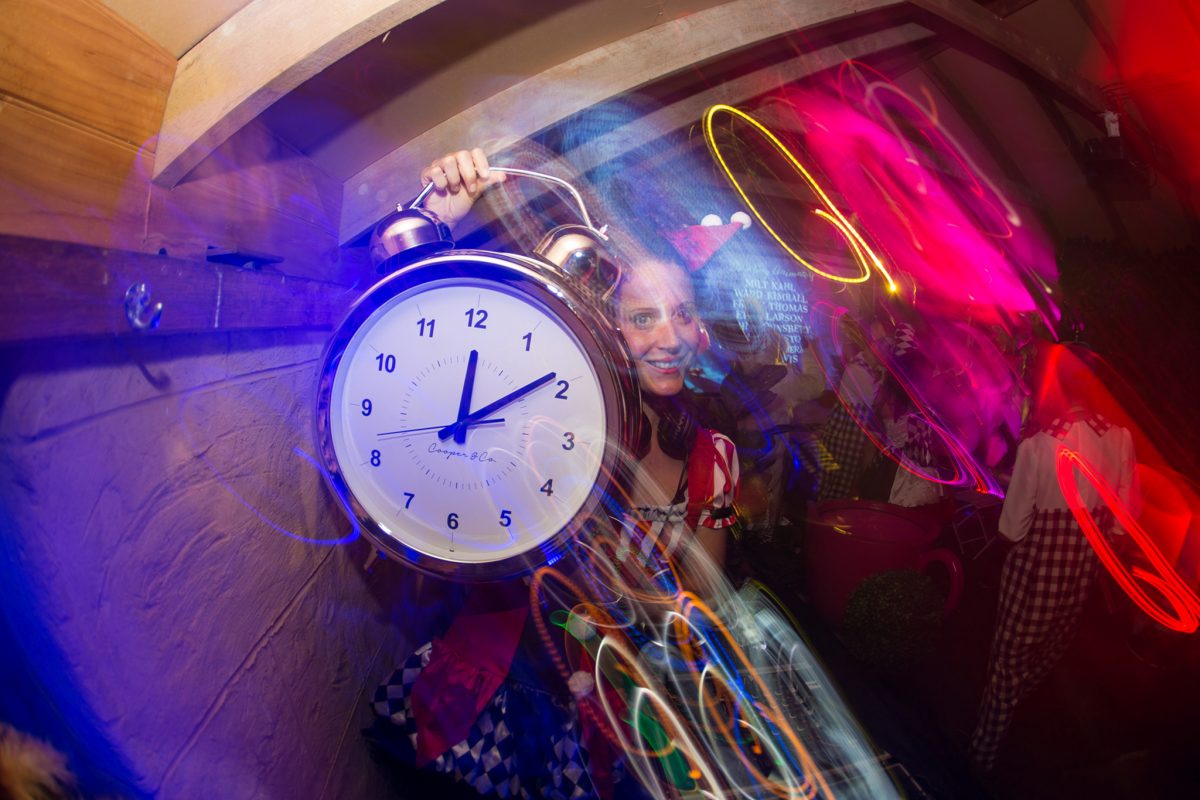 The final sequence in this dreamlike pageant is The Dream Room and it is where the guests depart Wonderland and re-emerge back into reality….
A bright space with an under-lit floor, the dream room has a cloudy ceiling with projections across the walls that show unfinished quotes from great novels… everybody is encouraged to enjoy a few personal moments. To close their eyes and dream. At the exit they are given parting gifts by the purest of White Queens, who sends them to the land of sleep and dreams…
The end of the night unfolds… carriages await, and the moon shines bright… a night of dreams, fantasy and creative magic, all Based on A True Story….
More stories from around the world
All elements are woven together with wondrous creativity, as each chapter of our magical journeys is told.
Expect elaborate theatrical events, wild escapades and eccentric characters…
Discover more stories