Engrained into humankind's nature since the dawn of time, wilderness exploration offers a relief from our modern lives and breathes a burning lust for life into any adventurer's soul.
Fertile valleys, smoky volcanoes, towering forests, fascinating endemic species, rushing rivers; Chile's wilderness is the perfect setting for an intrepid Based On A True Story adventure.
Just don't rush, the pace here is tranquillo. Take it slow, be present, breathe, and absorb the majesty of these settings.  Time reveals itself to be a mere construct when set against the ancient stillness and mighty ferocity of one of mother nature's most marvellous creations…
The narrowest country in the world, stretching from the Atacama's parched dunes in the North to mighty, crystalline glaciers in the South, Chile's unique geography spans 38 latitudes, 24 distinct climates, and encompasses a remarkable variety of climates and landscapes. This unique biome supports a huge variety of fascinating wildlife; Chile alone possesses around 30,000 species, 25% of which are endemic.
With influences from the Pre-Colombian Incan Empire, a multitude of recognised indigenous groups and various waves of European migration through the centuries, the country is an eclectic melting pot with a cultural heritage as rich and diverse as its nature.
In recent years there has been a resurgence of mestizo artisanship, especially in music, theatre, painting, and literature. And with the 2022 inauguration of Chile's youngest ever president, there is an air of optimism, as fresh, progressive reform is worked into the country's constitution and its ground-breaking environmental and social policies.
Beyond the mainland, Chile lays claim to various incredible territories, including 1.25 million square kilometres of Antarctica, as well as several Southern Pacific and Polynesian Islands, like Easter Island.
The opportunities for exploration are endless, and there's perhaps no better place to start than an epic journey into the wildernesses of Chilean Patagonia.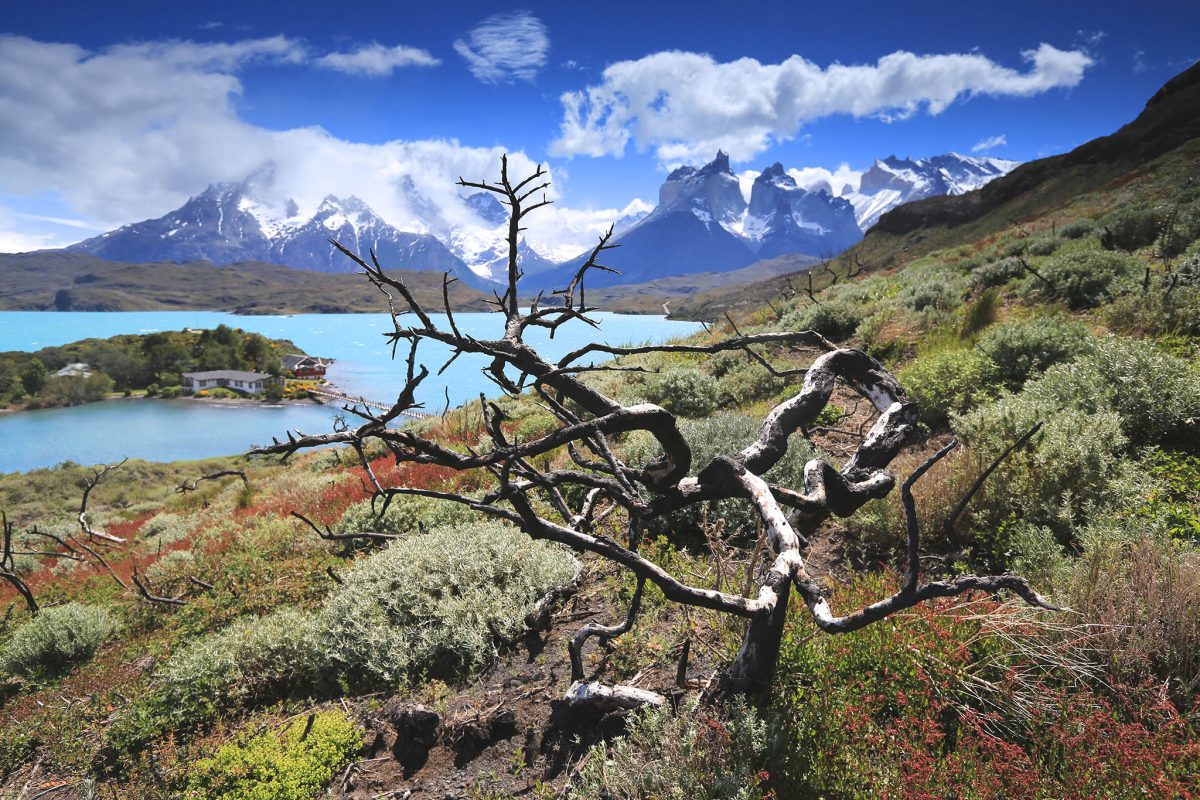 Chapter 1 | Santiago
—
Arrive at the capital city of Santiago, a cosmopolitan and atmospheric metropolis, where colonial architecture meets contemporary design, important historic sites are interspersed with bijou, boutique art galleries, and a diverse populous ensures a rich and ever-evolving cultural scene.
The city's financial and business centre is characterised by Santiago's soaring skyscrapers, which are in turn dwarfed by a stunning backdrop of the snow peaked Andes, making this cityscape strikingly scenic.
Wandering from your elegant city-centre hotel, take a journey downtown, meandering through the streets and checking out the gastronomic scene, discovering that the same creative energy that has been invested in its architecture has also been directed into its food.
Sample sumptuous local flavours at the buzzy central market, relax in comfortable neighbourhood bistros, and revel in refined sky-high luxury, dining on cuisine created by some of Latin America's most celebrated chefs.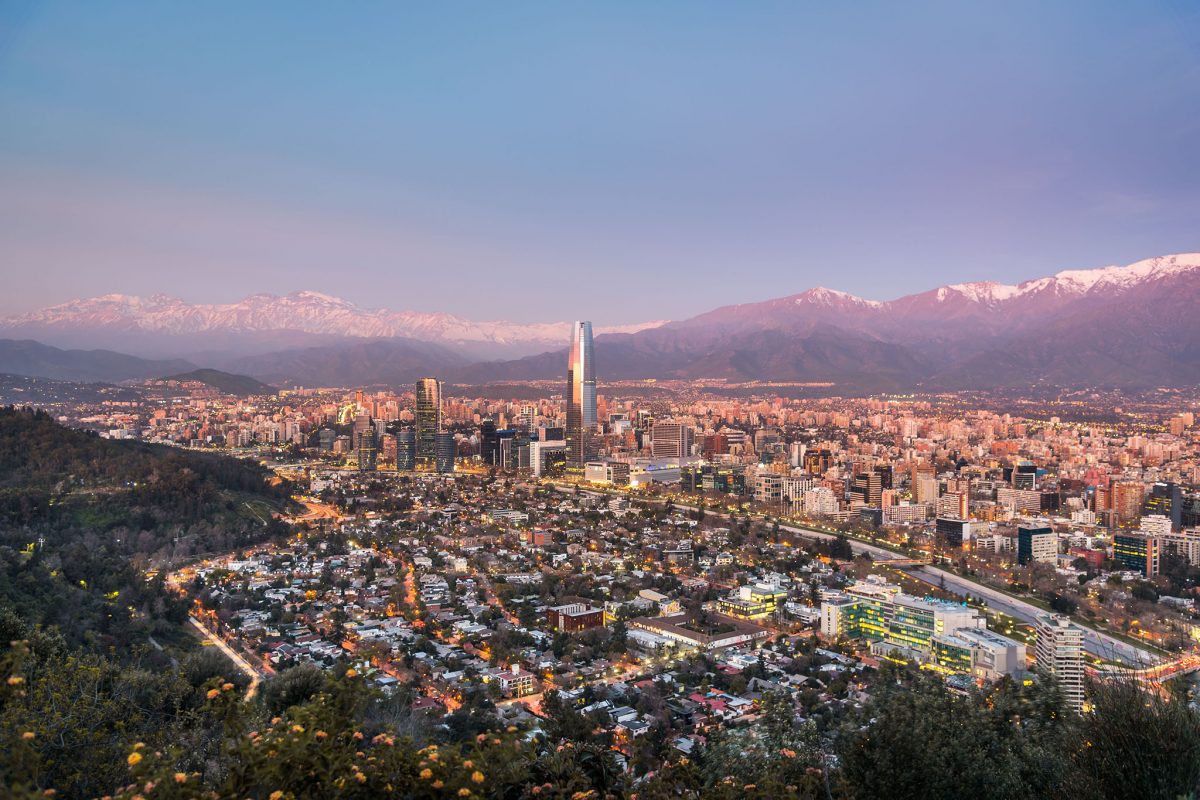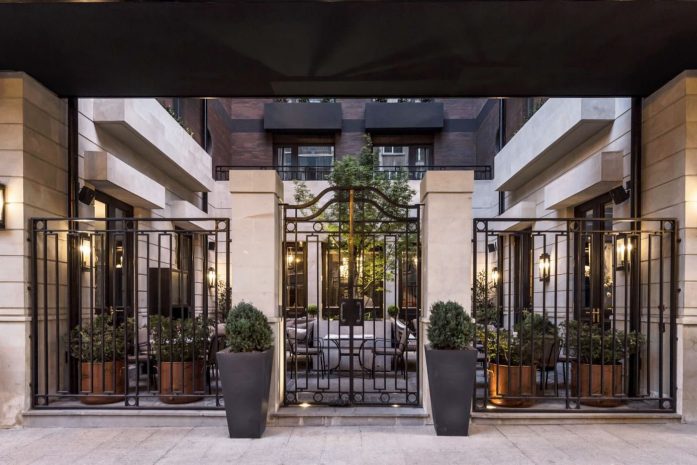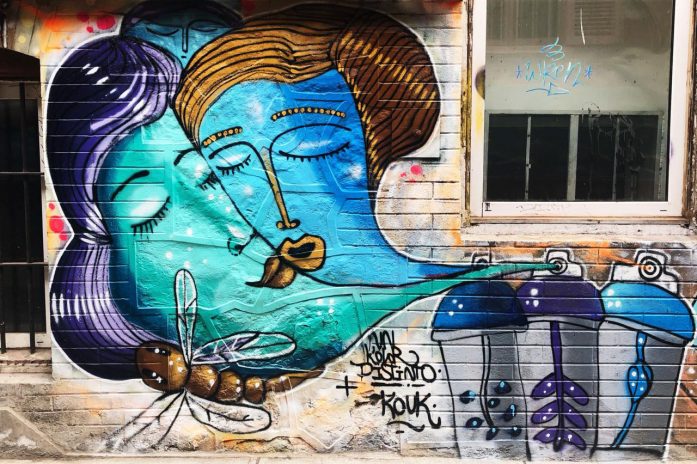 Chapter 2 | Pacific Lake Region
—
Refreshed and well fed, begin your journey to Chile's relatively little-known Pacific Coast Lake Region.
Vast glistening lakes, fertile valleys, dense forests and snow-capped volcanoes, the vistas here are often likened to those of Switzerland (though comparisons owe partly to a German architectural and culinary influence, hailing from the settlers of the 1850s). An idyllic starting point, the Lake District is a gateway for further adventures into Patagonian wilderness.
Perched upon a breath-taking stretch of wild coast, surrounded by pristine Valdivian rainforest, the Mari Mari Natural Reserve eco-lodge sits harmoniously within its environment. Robust and deeply comfortable it is a luxurious base, perfectly positioned for explorations both in land and out to sea.
Trekking between monkey puzzle trees on foot or horseback, exploring the coast by kayak, and taking boat trips to visit penguin colonies, sealions, whales and dolphins. Embrace this short period of exposure to nature's raw elements, finding soul-enriching invigoration and excitement brought about by encounters with local wildlife.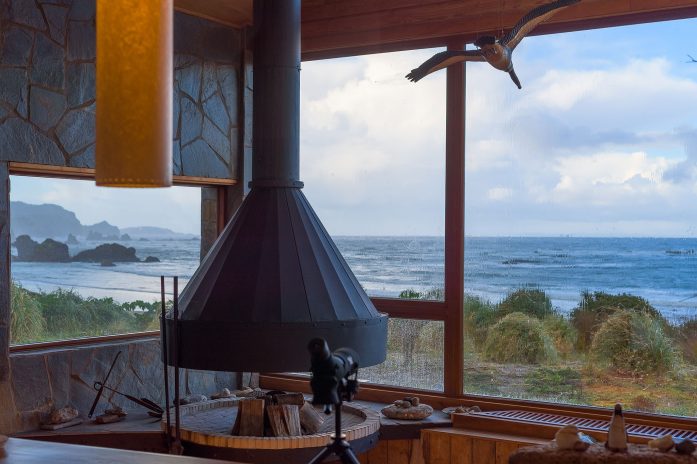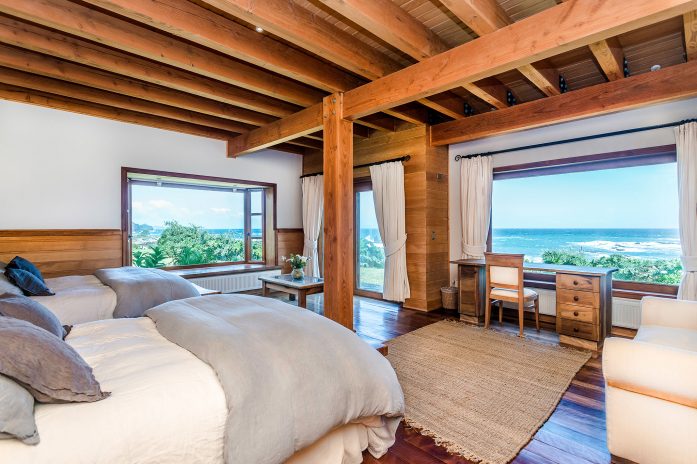 Set within 9,000 acres of pristine terrain, Mari Mari's respect for the surrounding environment goes far beyond safeguarding the flora and fauna. They are committed to connecting guests to the fascinating ancestral cultures of this land and are helping to build a sustainable heritage for the local Mapuche People, the only South American indigenous group that withstood not only the attacks of the Inca but was also never conquered by Spanish colonialists.
Take a helicopter exploration inland to Puerto Varas and hover above the smouldering Osorno and Calbuca volcanoes, your expert guide telling the stories of the awesome landscapes you see from above. Land by the picturesque Lake Llanquihue to learn about the vital rewilding and restoration projects that are underway here. Relax into a peaceful evening of lakeside serenity by the warming bonfire whilst you adjust your final plans for your coming adventures…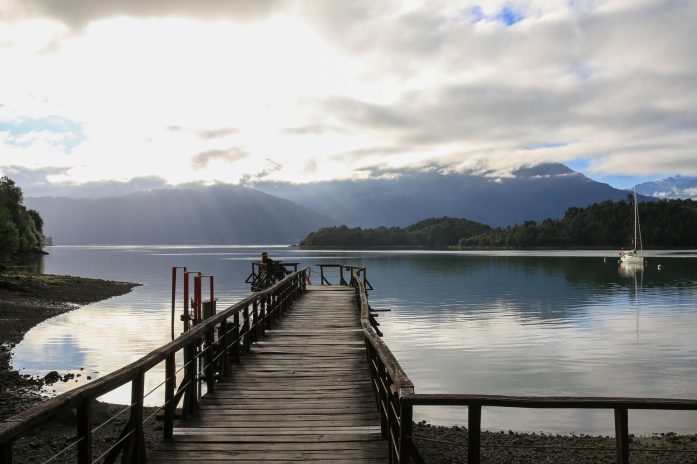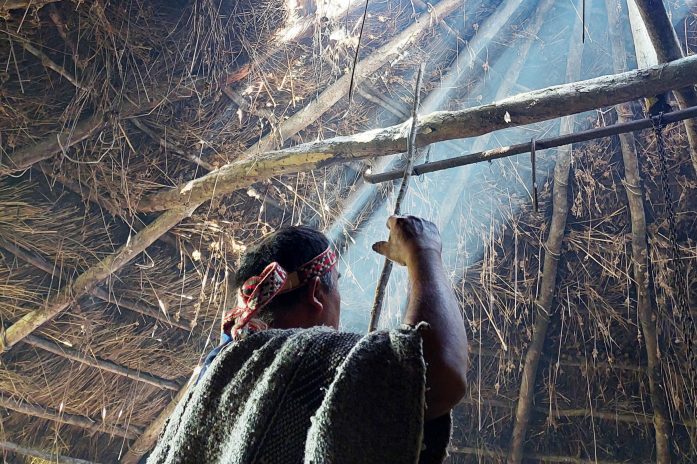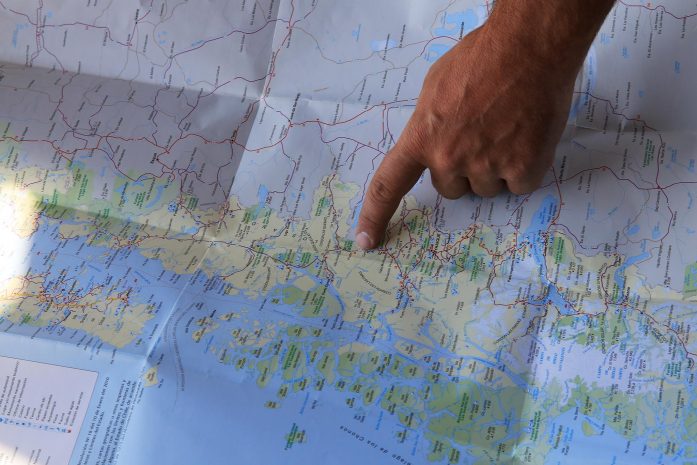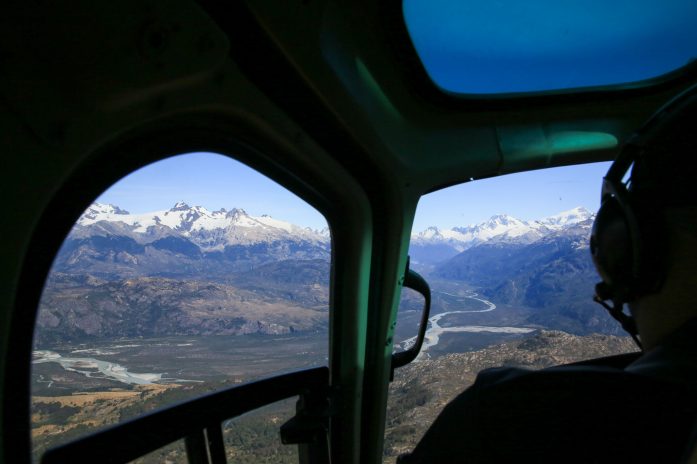 Chapter 3 | Patagonia
—
Journey onward, heading South to one of the last truly wild places on Earth.
Prepare to enter the humbling and sobering ambiance of genuine wilderness, spanning over 400,000 square miles in Chile and Argentina and divided vertically by the towering Andes Mountains, the sprawling expanse of Patagonia is home to just 6% of Chile's population and is a vital refuge for rare and endangered native wildlife.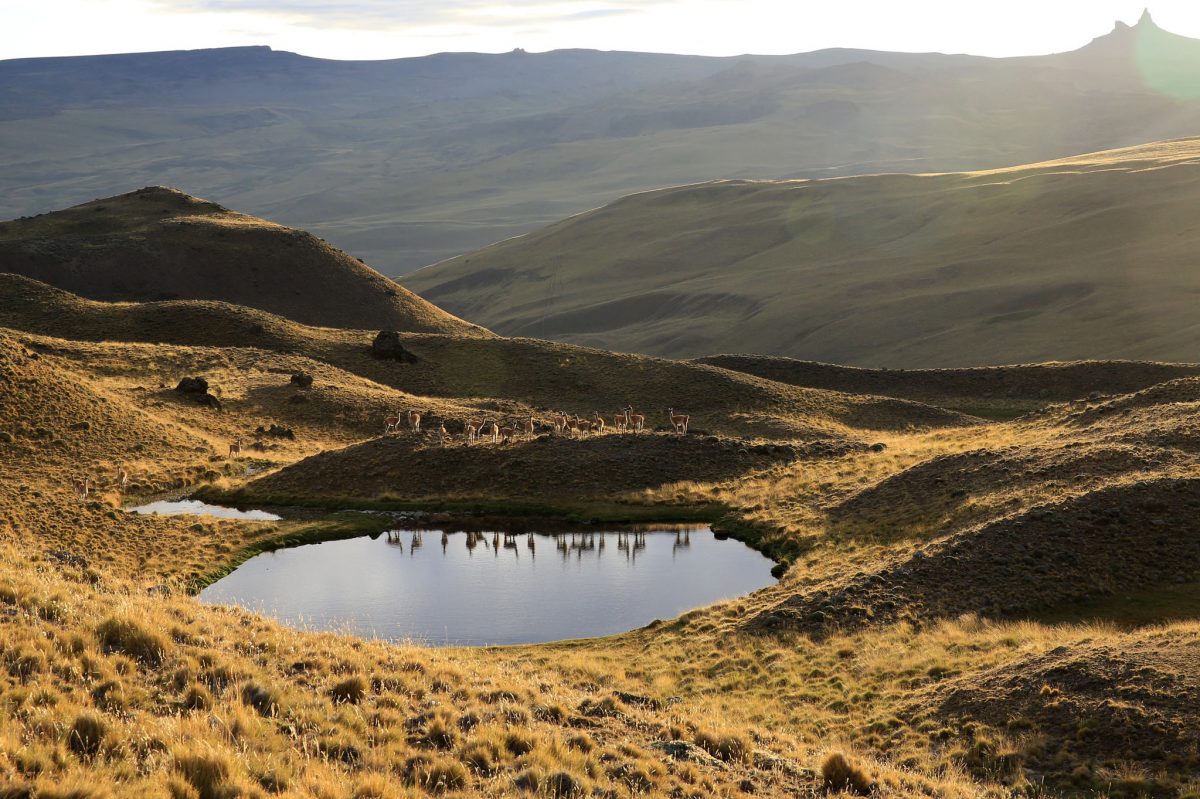 This low human density offers a window of opportunity to protect vast areas of the region -particularly along its extensive coastline, which consists of thousands of miles of stunning fjords and island archipelagos in an area of around 100,000 km – 2.5 times the world's circumference!
Thankfully, real conservation work is already underway here; work that you can tangibly contribute to, and work that when invested in will truly last forever.
Inland there are also serious and significant efforts afoot to protect this precious natural beauty, with rewilding projects established over millions of hectares of Chile's wildernesses. Inspired by the conservation successes of Africa's reserves, these have been developed in part by the incredible Tompkins Conservation and are continuously supported by their exceptional boutique eco-lodges.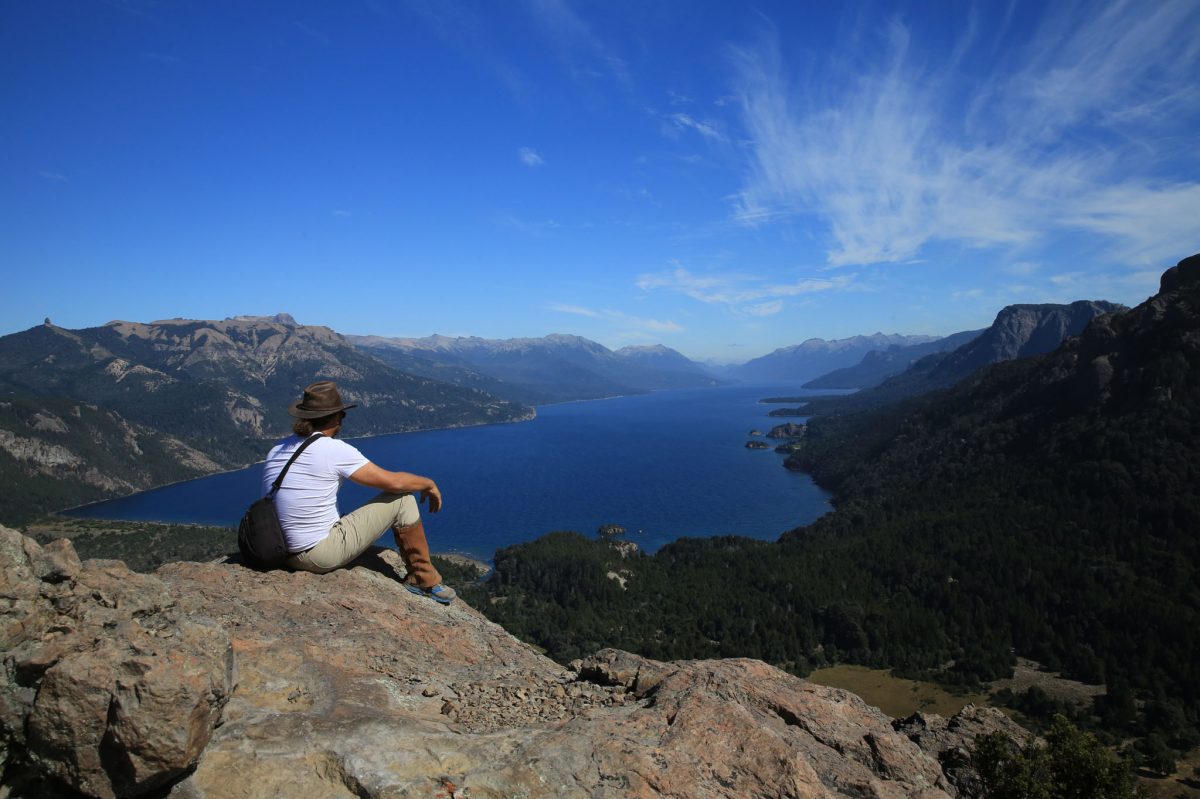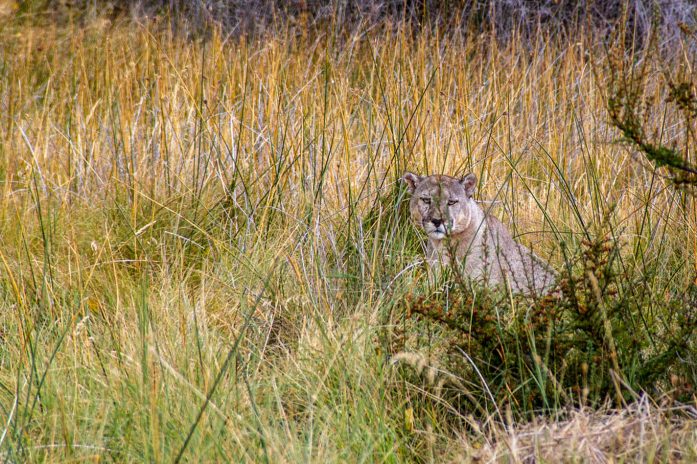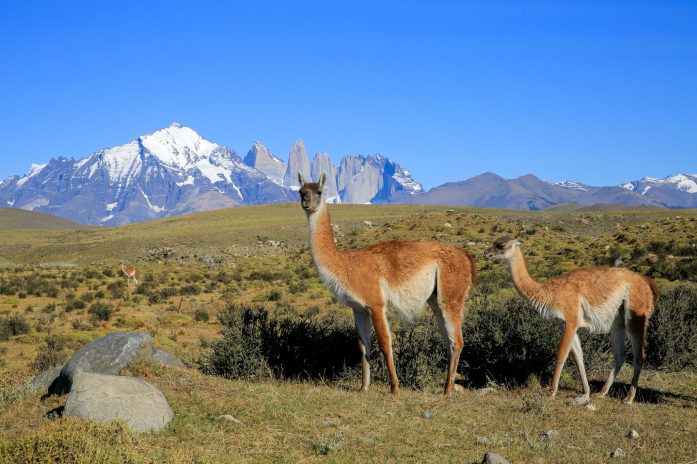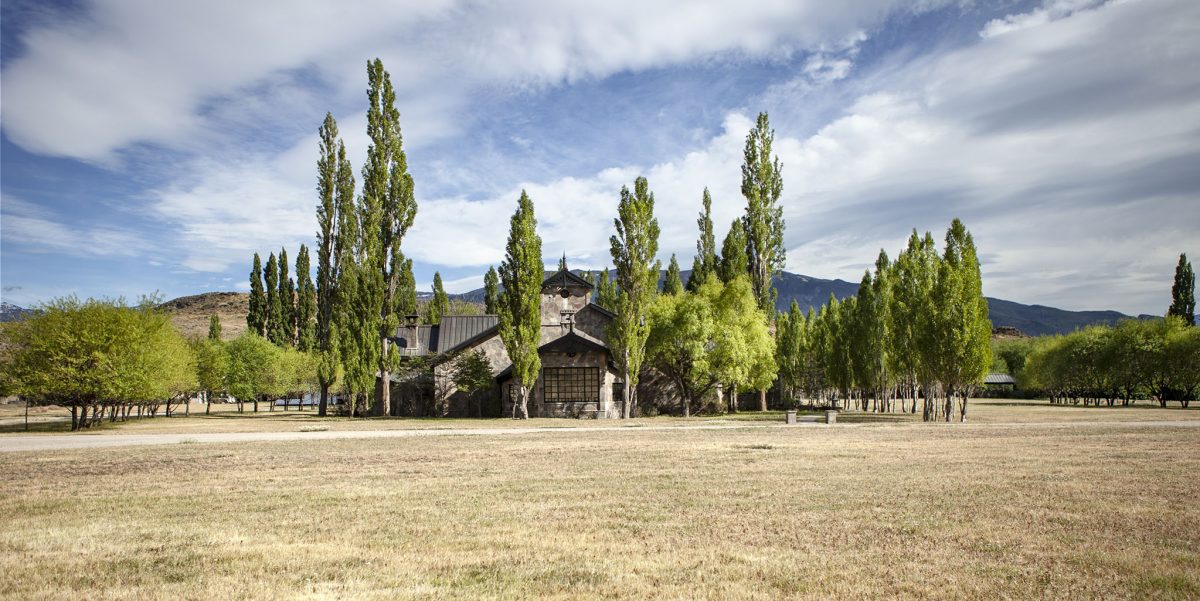 Based in the heart of the breath-taking Patagonia National Park, amongst vast steppe and majestic glaciated peaks, explore the stunning Chacabuco Valley on mountain bike, horseback and 4×4. Looking out for endemic species like guanacos (a llama relative), huemul (Andean deer), pink Chilean flamingos, nandu ostriches, and with enough patience, perhaps a Patagonian puma.
Kayak into the enchanting Capillas de Marmol, (aptly named, 'the marble caves'), and join the local gauchos on horseback to discover the ranching culture that, although at one time was foreign here, is now deeply ingrained into this environment.
Experience the proud heritage of the Patagonian gauchos and immerse yourself in their traditions. Face the elements together, making fire, cooking and eating, learning, hearing their stories, and experiencing the challenging yet rewarding ways that these hardy folk have had to adapt to survive.
Within this raw nature is where you will learn of your own limits and live to tell your own tales, forged from your own experiences.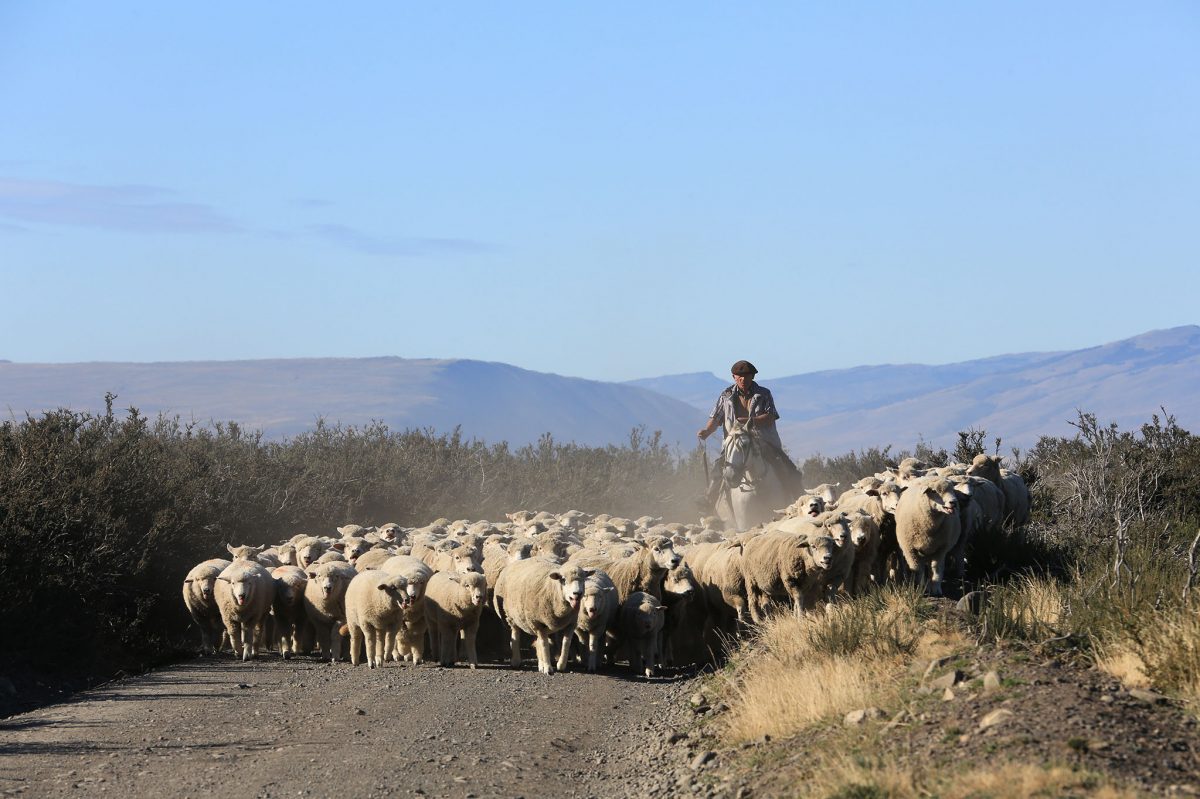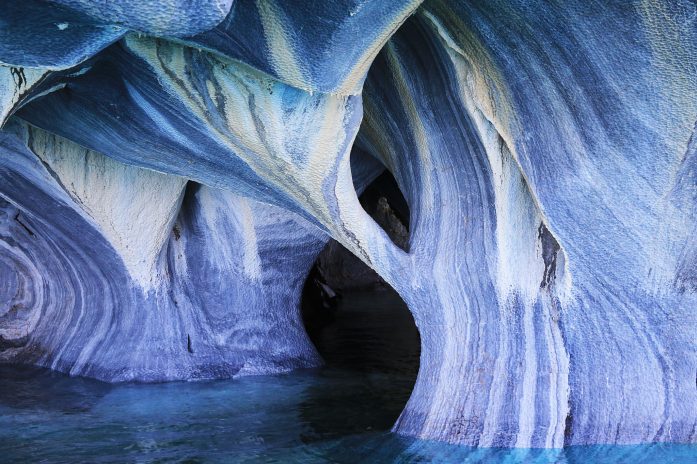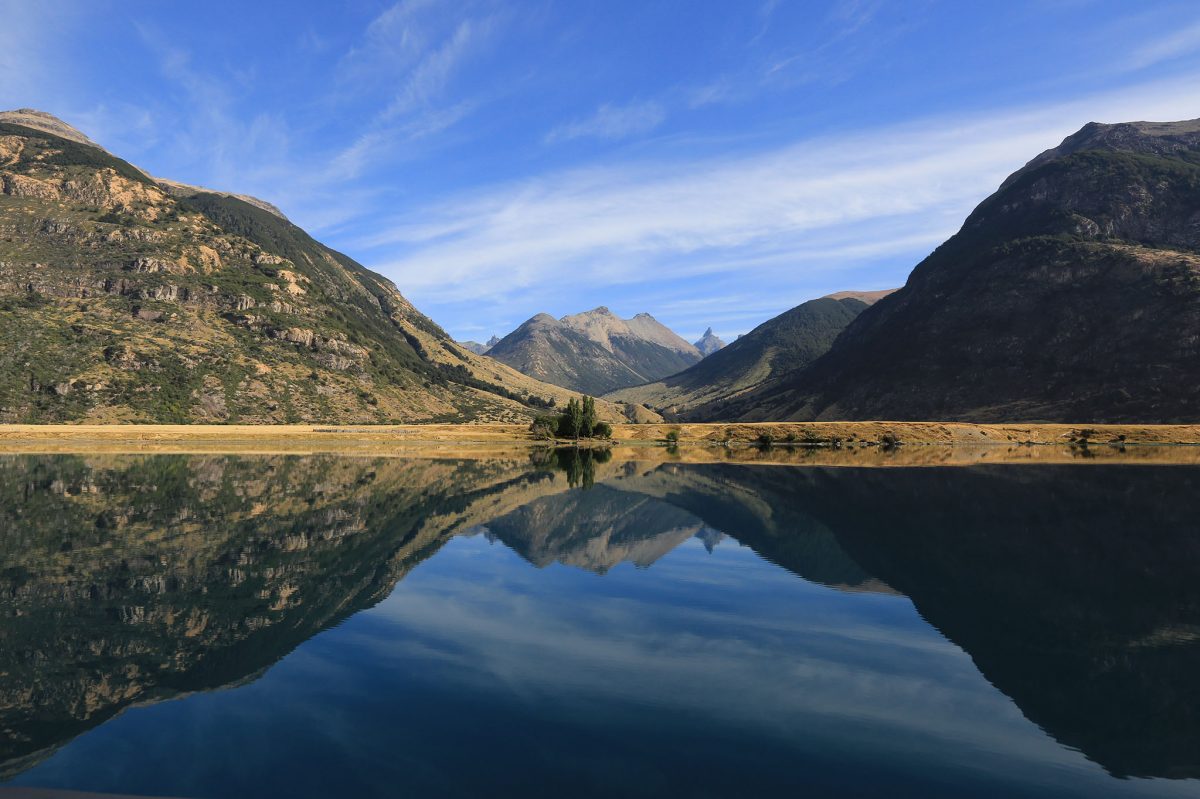 Chapter 4 | Torres del Paine
—
It's hard to highlight any one area of Patagonia as the most exceptionally beautiful but the towering granite spires of the Torres del Paine National Park are certainly in the running for Pièce de Résistance.
Geologically young, at only around 12 million years old, the Torres del Paine reserve is a dynamic, ever-shifting landscape. Formed from magnificent glacial rivers, grinding against the hard bedrock, as they edge and crunch their way to meet glistening freshwater lakes.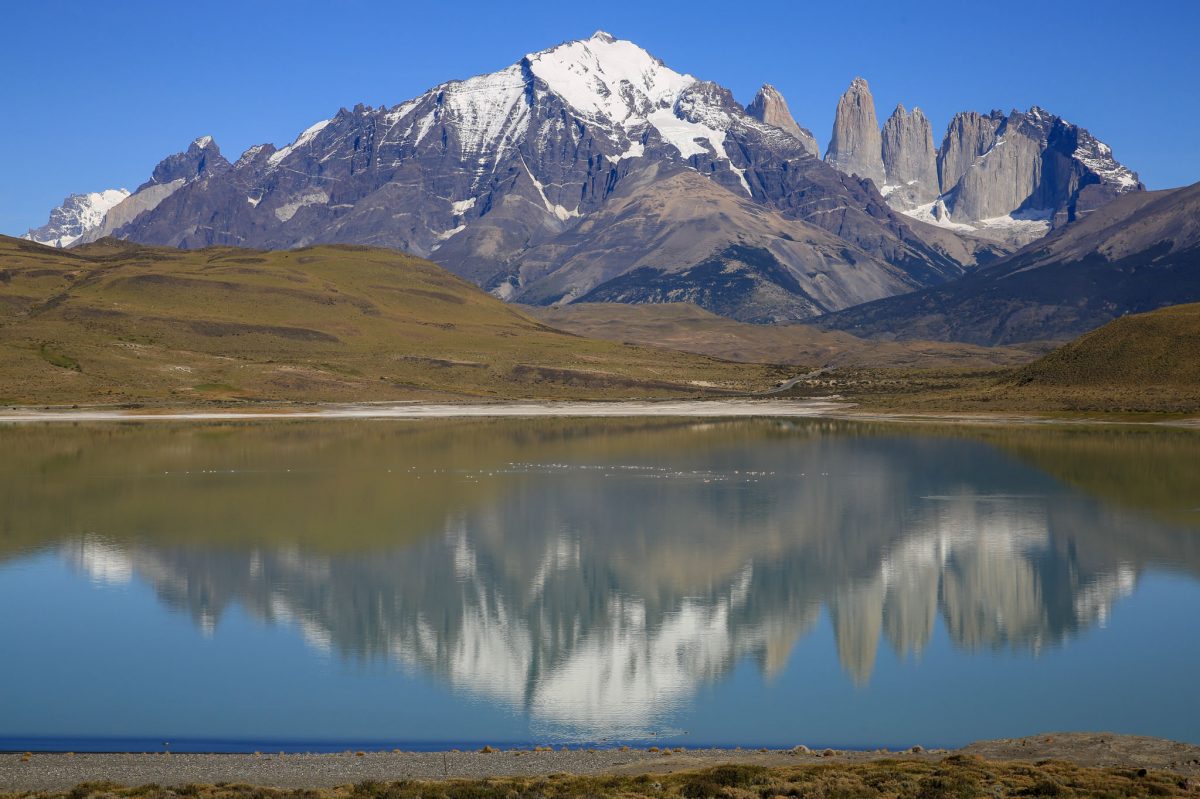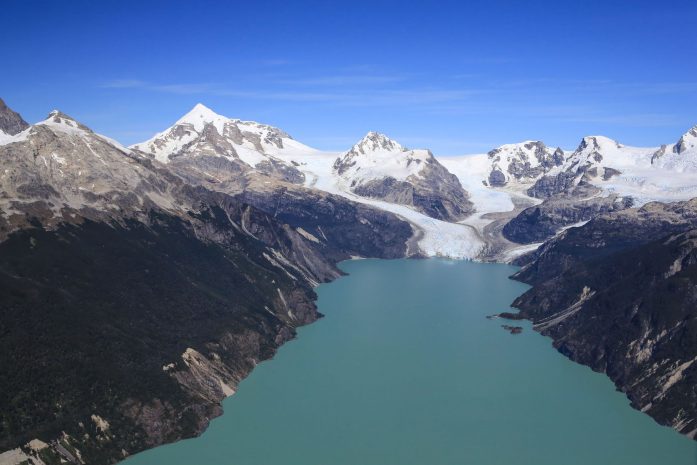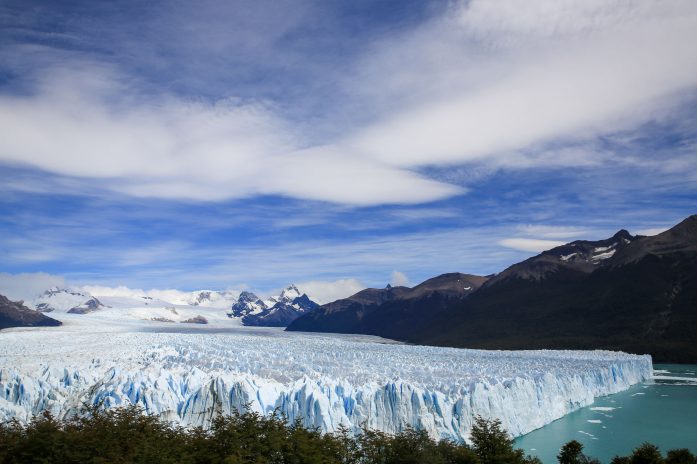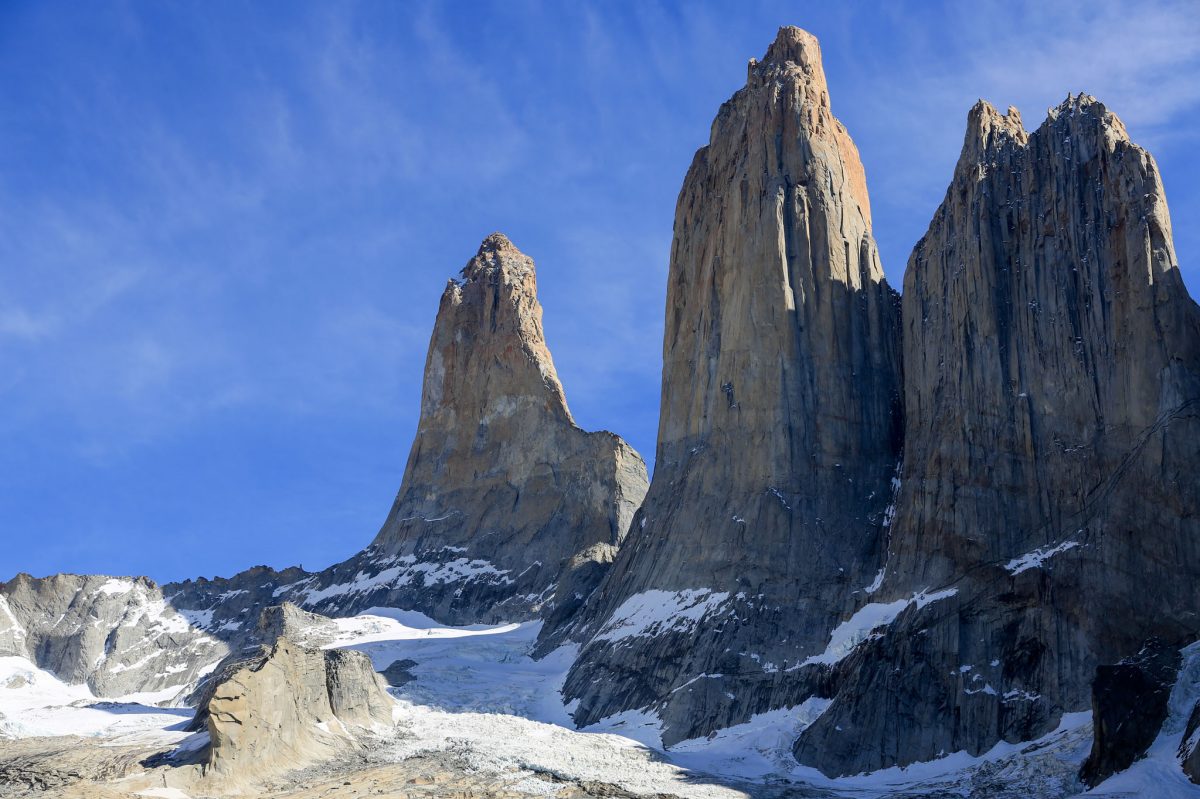 Your basecamp for this final chapter of intrepid exploration will be Awasi Patagonia. Situated in a private reserve with views of the majestic peaks, this exceptionally comfortable and cosy lodge has just 14 immaculately appointed villas, each assigned with private guide and a 4×4. Setting out across one of the world's most famous mountain landscapes with your Based On A True Story expert facilitator, guides and vehicles, you are truly equipped for this mini expedition.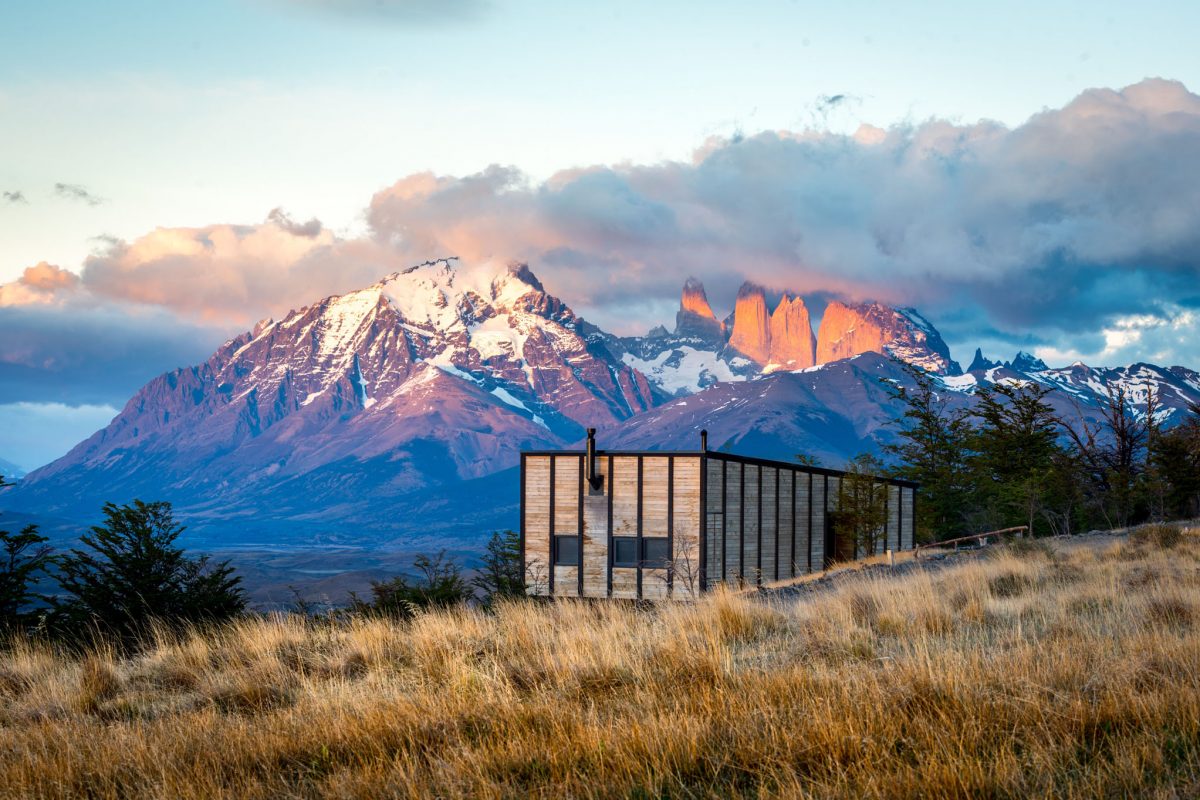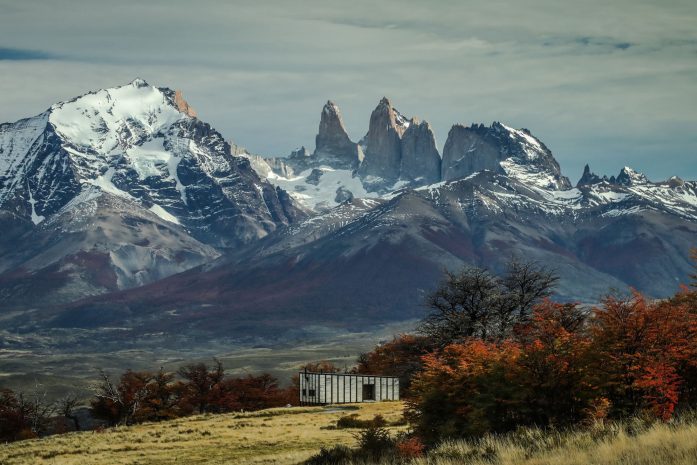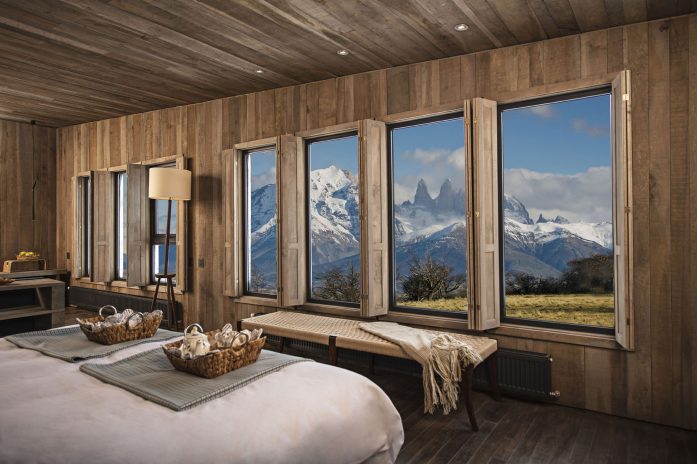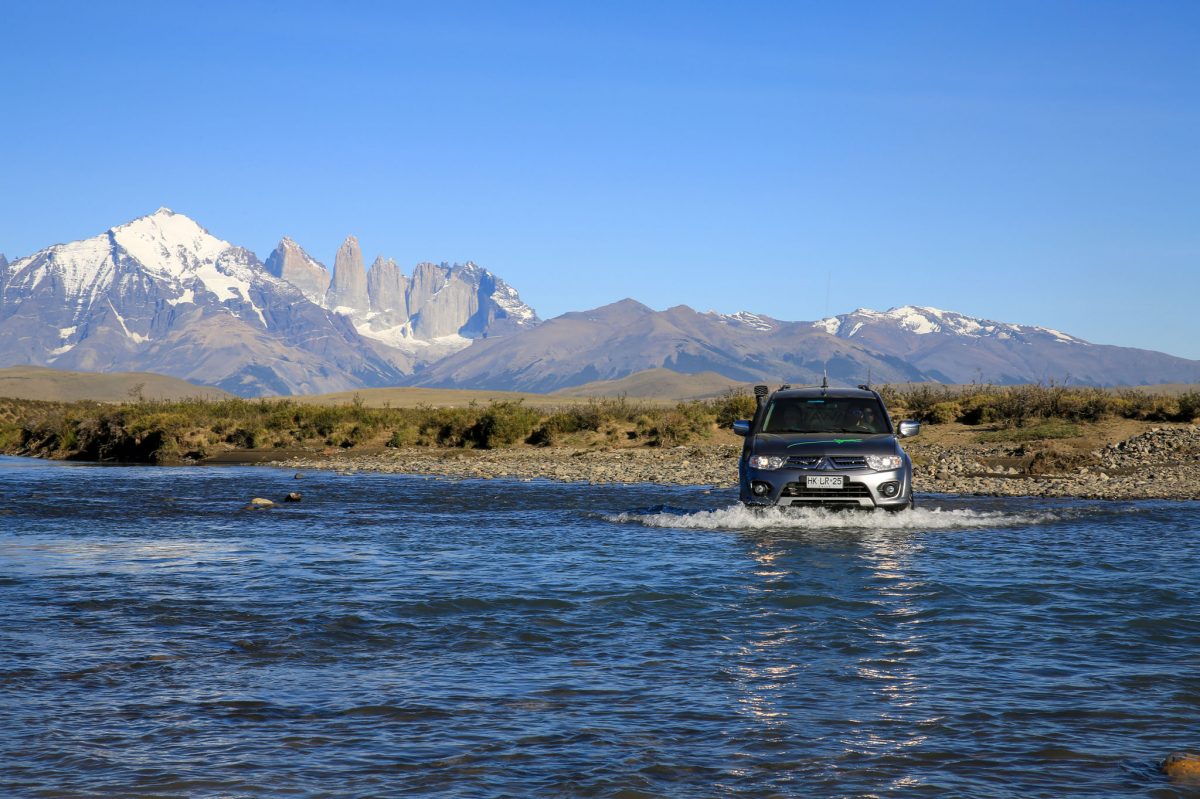 It will take several full days to explore this dramatic region. From the iconic Cuernos del Paine (the Blue Horns), the turquoise jewels of Lake Pehoé and Lake Sarmiento, and the majestic Salto Grande waterfall, the scale of natural beauty in this area is truly bewildering.
Having explored the National Park you can take further excursions from here to the coast and find superb opportunities for marine exploration. Fed by the nutrient rich upwellings of the Humbolt Current, the Patagonian Sea is an extraordinarily productive marine environment. Providing the largest feeding area of blue whales and an important refuge for endangered southern right whales, as well as numerous dolphin species, seals, otters, curlews and breeding colonies of black-brown albatross.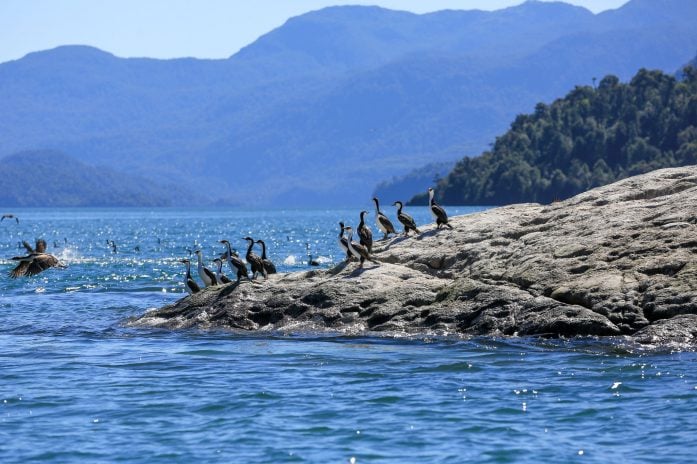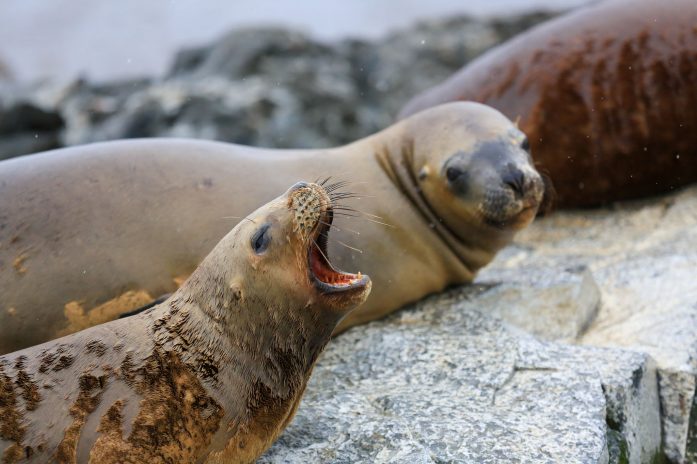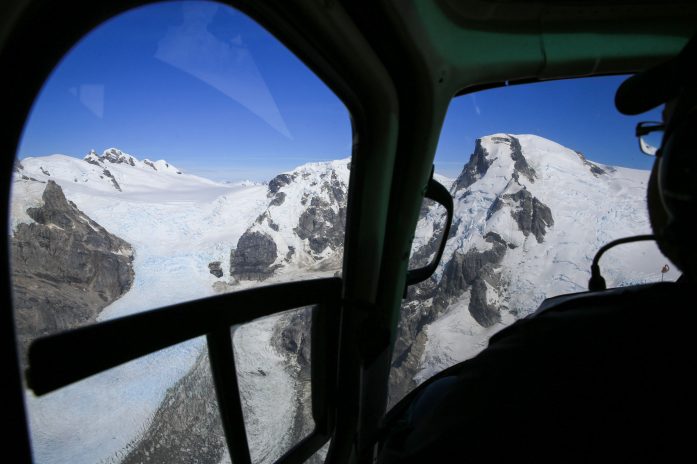 The same waters that support this amazing marine biodiversity are also a source of income for many local and indigenous communities, including the Mapuches, Yaganes and Kaweskar.
Here you can take part in meaningful work alongside these communities and further understand the harmonious relationship between Indigenous Peoples and nature. Deepening your respect for their traditions and further enhancing your knowledge of practices that are thankfully now being respectfully preserved.
There is a huge push here to hand back the stewardship of ancestral lands to these local communities, who are truly the rightful guardians, and not the owners, of this land.
As they correctly point out, nobody owns this land. We can only assist in looking after it, nurturing, protecting it and honouring it.
Chilean Patagonia is most accessible from October to March.
From small scale community-based initiatives to chartering global pathways that ensure permanent conservation at scale, we can accommodate any level of philanthropic gesture to ensure your travels are infused with meaning and purpose.
With your comfort, safety, and confidence at the core of our truly personalised service, our team are ready to guide you to the most worthwhile causes, whilst opening-up opportunities for life-changing experiences.
Speak to our team to find out more.
More stories from around the world
All elements are woven together with wondrous creativity, as each chapter of our magical journeys is told.
Expect elaborate theatrical events, wild escapades and eccentric characters…
Discover more stories