A leather boot large enough to house a whole family; a terrifying stand-off with a colossal robot; your three best friends standing in the palm of your hand… ridiculous scenarios in any other setting, but just another day in Bolivia's Salar de Uyuni.
Likewise, the white geodesic domes of Kachi Lodge would look preposterous installed into the vast majority of landscapes, yet in this otherworldly terrain at the foot of Tunupa volcano, the space station-esque pods blend effortlessly into their natural habitat.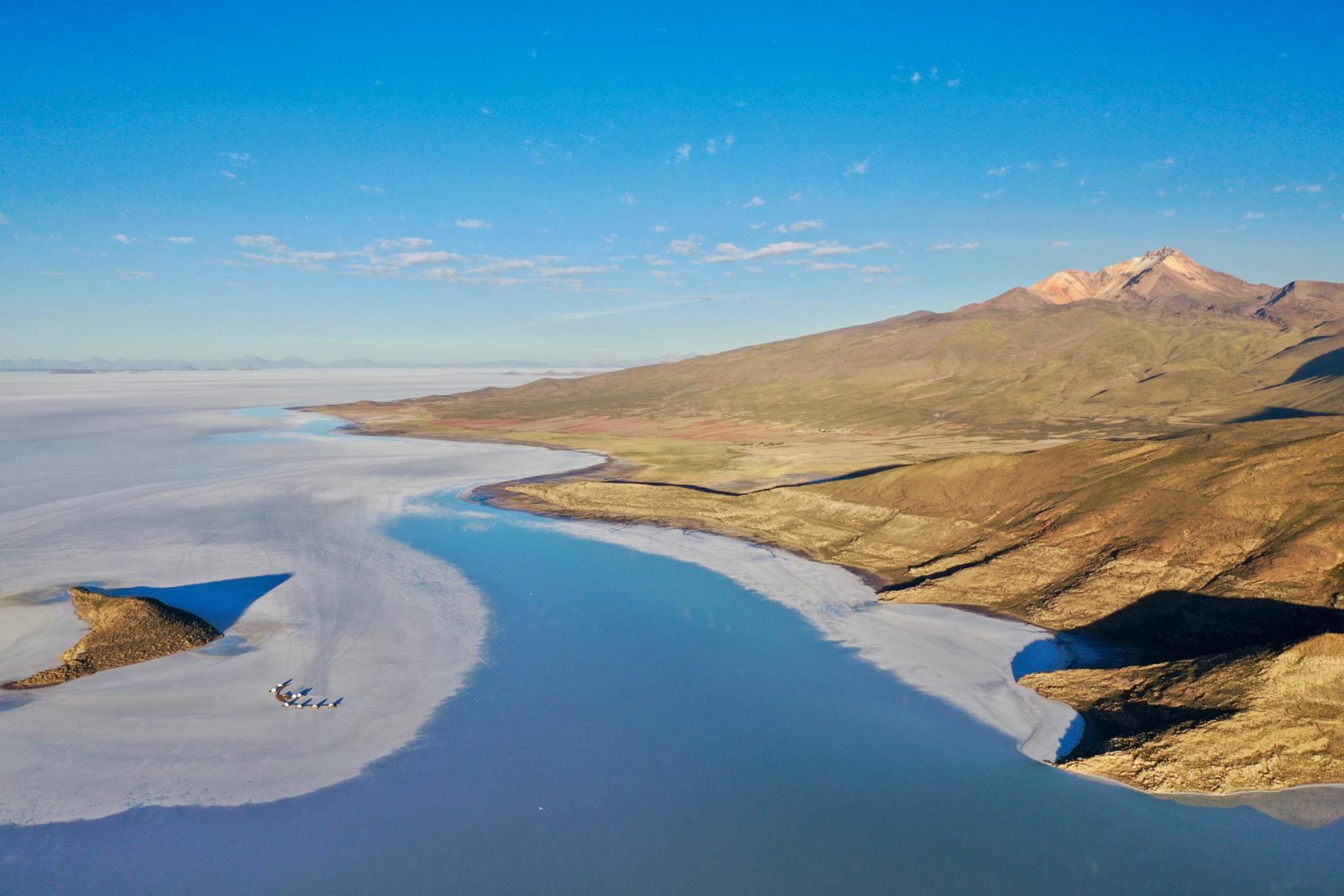 01

/ 02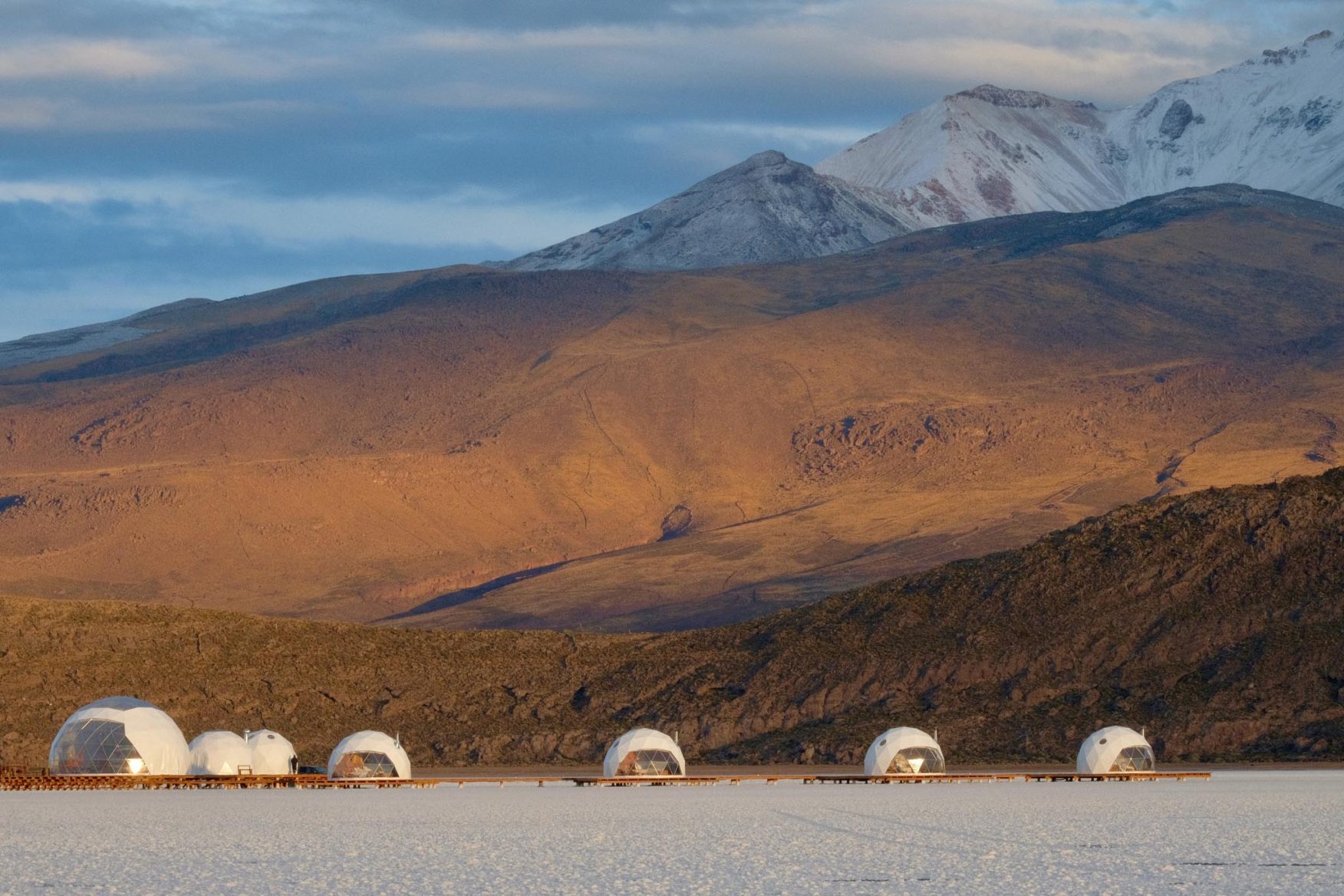 02

/ 02
Pause slider
Play Slider
Not only do the domes look harmonious their landscape – their rounded shape echoing local beliefs and cosmology – Kachi Lodge has been designed and created with a holistic approach throughout. With a strict commitment to the environment, sustainability is at its core. At 3600m high with no access to running water or electricity, the lodge is expertly run using an array of smart eco-sensitive solutions including solar panels, salt-water batteries, waste-wood pellet heaters and incineration toilets.
Six bedroom domes are connected to the main lodge by a 160-metre long wooden platform which, as well as raising the domes up during the Altiplano's annual flooding, makes the entire structure dismantlable without any trace of its presence.
All of the lodge's furniture and décor are sustainably sourced or reclaimed, and Swiss interior decorators worked closely with the local community to craft the platforms, so that interiors truly reflect Bolivian spirit whilst still oozing boho-chic.
Inside each of the cosy bedroom pods, unique furniture and textiles are handcrafted from regional materials including naturally dyed llama and alpaca wool, cactus wood, rattan and straw. Artworks by celebrated artist Gastón Ugalde add a colourful twist to the rooms' neutral, earthy tones.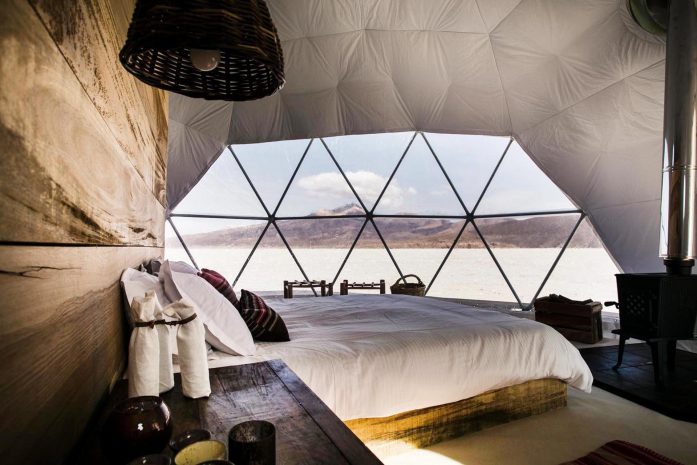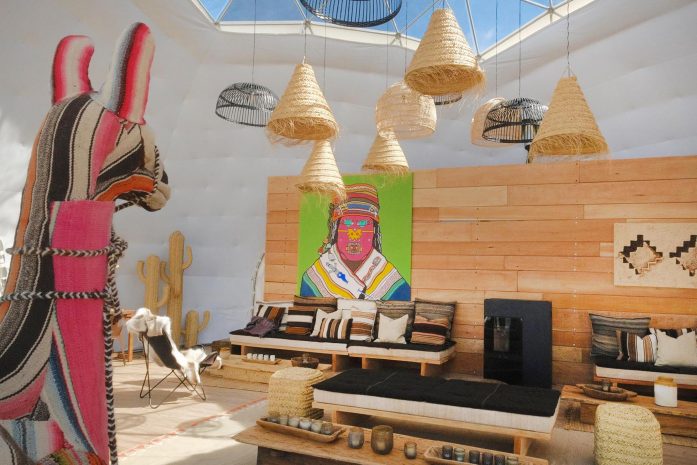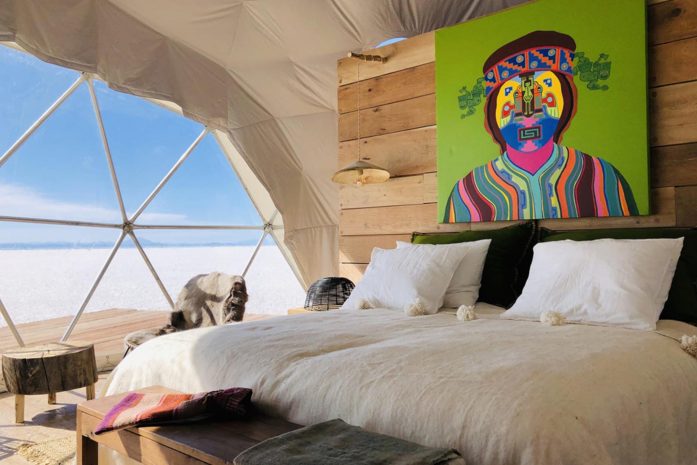 Ugalde is commended as 'the most important living Bolivian artist' due to his boundless talents and deep understanding of the Salar's countless spiritual meanings, and has in the past helped our guests to create thrilling personal artworks on their voyages through this spectacular landscape.
His passion for the Salar has been on an on-going adventure for the past 50 years, within which time he has formed and nurtured a one-of-a-kind relationship with the local Jijira community. Needless to say, he has the most knowledge, expertise and aptitude required to integrate Bolivia's cultural landscape within Kachi's artwork and decor.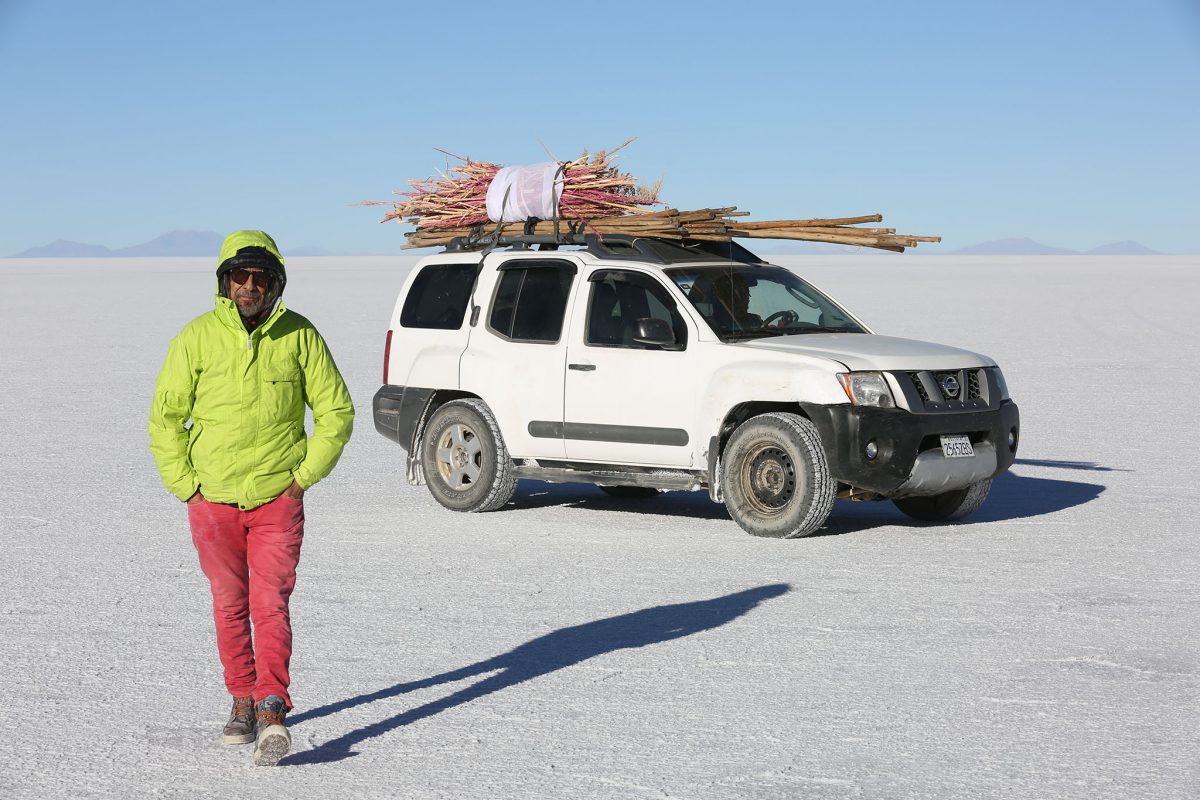 The main dome provides the perfect lounge atmosphere, replete with huge straw hanging-lamps and Gastón's gigantic woven sculptures that personify local deities. Sofas with dozens of striped bayeta cushions and large reclaimed wood furniture are perfect for gazing out over Salar's vast, endless vistas. And the outdoor terrace provides space for morning coffee, al-fresco dining or some high-altitude sunbathing!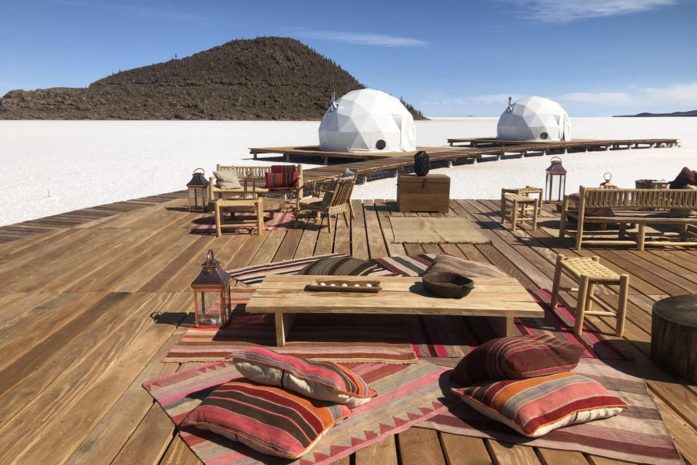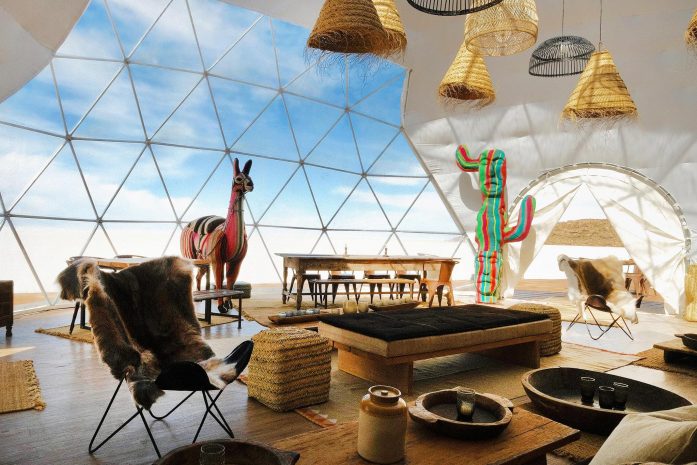 Gastronomy is provided through an exclusive partnership with one of South America's best restaurants, Gustu. Founded by Claus Meyer and Rene Redzepi – the visionary behind Copenhagen's Noma and its head chef, respectively – Gustu's haute cuisine seeks to reveal the potential of Bolivia's unearthed, raw ingredients and ecosystems. Bolivian products, local flavours, and ancient wisdom inspire a daily menu, prepared by resident chefs in a small state of the art kitchen dome and paired with local wines from Tarija region.
The day here begins with an extraordinary orange sunrise over the shimmering salt flats and a short hike to the tip of nearby Kachi Island for a delicious al fresco breakfast. Thrill seekers can then downhill mountain bike on Tunupa Volcano or trek to its crater for incredible views over the ochre banded landscapes. Take a short 4×4 ride for exclusive access to prehistoric archaeological sites where the world's oldest mummies were found, spotting the local wildlife of flamingos, vicuñas, vizcachas, and Andean fox along the way.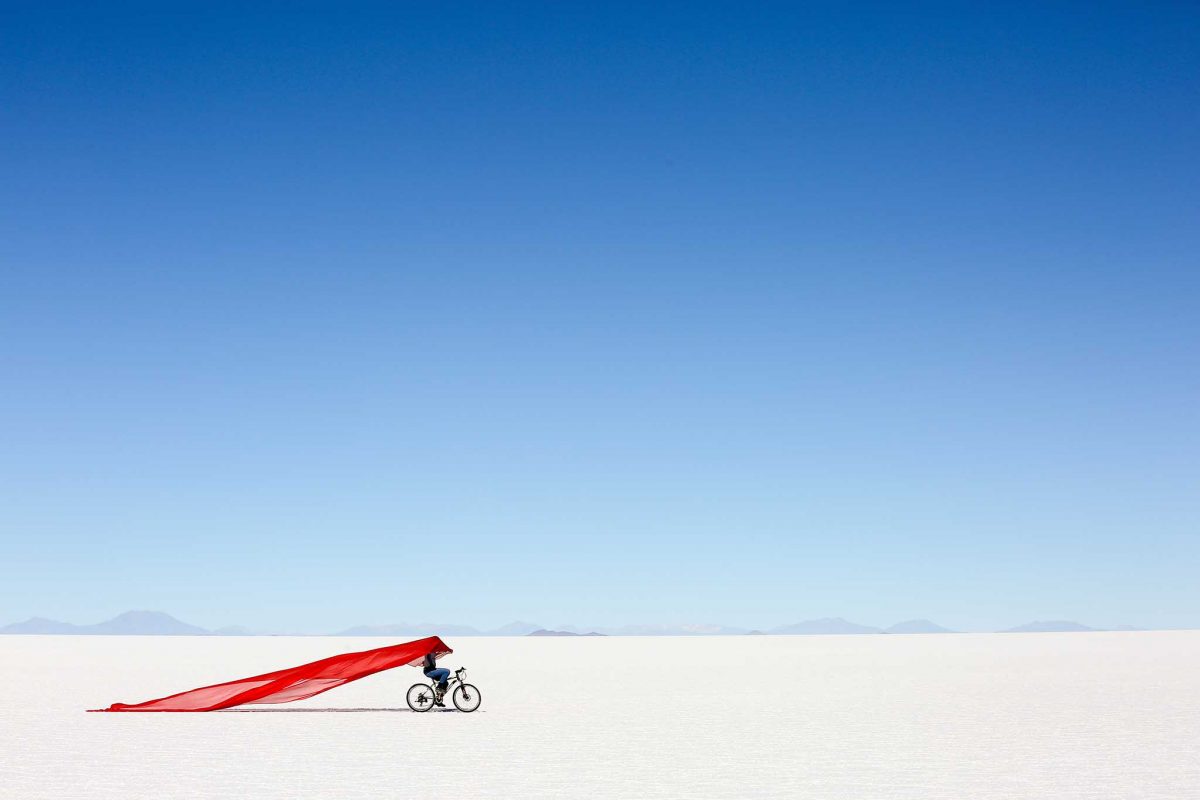 During the short rainy season, paddle or canoe out into the flats for an epic photo session as the dramatic clouds and the striking colours of sunset are mirrored upon the water's surface.
In such a remote setting, no lights or sounds disturb as the night sky opens up and the stars pour overhead. Dine under the glittering constellations then, equipped with a state-of-the-art telescope and guided by an expert local astronomer, discover the depth of ancient Andean cosmology before retiring to your cosy bedroom dome to sleep with the blanket of stars above.
More stories from around the world
All elements are woven together with wondrous creativity, as each chapter of our magical journeys is told.
Expect elaborate theatrical events, wild escapades and eccentric characters…
Discover more stories